Invent Awards to Showcase New Crop of Innovative NI Businesses
Twelve of the most exciting startups in Northern Ireland will showcase their commercial concepts and pitch to be named the overall winner […]
September 8, 2020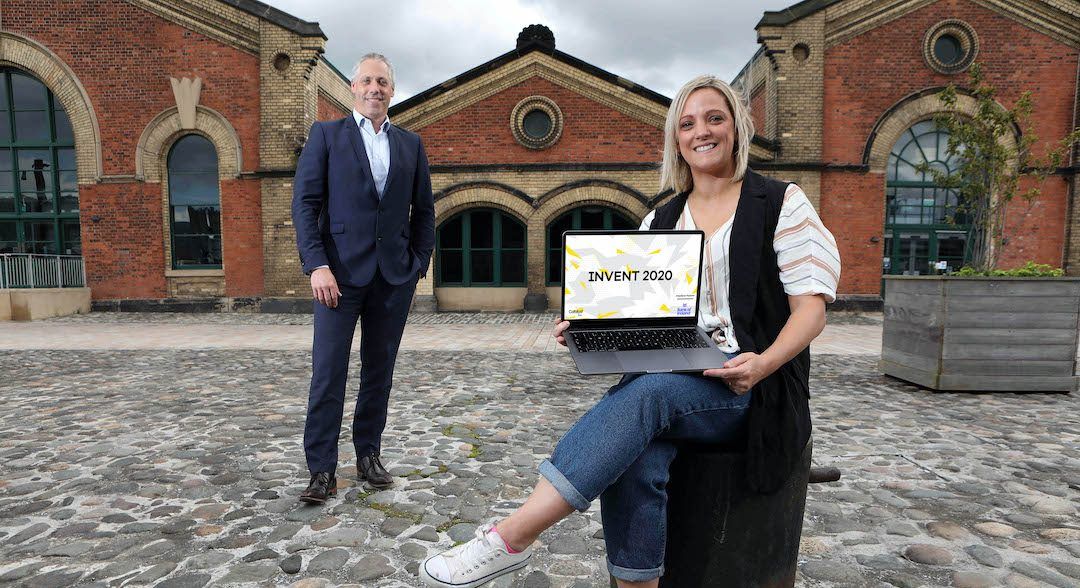 Twelve of the most exciting startups in Northern Ireland will showcase their commercial concepts and pitch to be named the overall winner of the Invent Awards 2020 at a new hybrid event next month and the organisers want as many supporters as possible to tune in online.
Organised by Catalyst with headline partner Bank of Ireland, Invent is an annual competition that supports, recognises and rewards local innovations and proof of concept ideas that have the greatest commercial potential.
It serves as a showcase for emerging Northern Ireland talent and commercial concepts, increasing their visibility and comes with a £33,000 prize fund to split between the winners. Over 100 entrepreneurs applied for Invent 2020.
Among this year's finalists are teams that have created tech designed to keep students safe on nights out, a company that has invented a patented new flood defence system, the creators of new ethically sourced vegan drink, an online marketplace that helps employers find apprentices and an inclusive online learning platform for students of all abilities.
The final on October 8 will be hosted by broadcaster William Crawley and in addition to the main awards, the 12 finalists will take to the stage at ICC Belfast's hybrid studio to give a live one minute elevator pitch to win £1,000, with the virtual audience deciding who pitched best. The event will be entirely free to attend and Catalyst is urging anyone with an interest in innovation in Northern Ireland's to register.
Gavin Kennedy, head of business banking for NI at Bank of Ireland UK, headline partner of the Invent Awards, said: "The creativity of innovation in challenging times is what leads to transformational solutions and our experience has shown that incredible things are achieved when business communities and individuals come together. Invent continues to be an inspiration in Northern Ireland and we're hugely excited about the potentially game changing ideas the 2020 finalists will showcase at this year's awards.
"At Bank of Ireland UK we continue to support local recovery and Invent is an invaluable programme which provides innovation entrepreneurs with a platform for discovery as well as access to and support from a network of expertise. It builds knowledge and confidence and provides lasting practical support which enables talented Northern Ireland teams realise their visionary innovative business ideas and to launch them into the world. There is no question that this year, COVID-19 has presented an enormous challenge to our physical, mental and financial wellbeing, which makes that 'can-do' enterprising spirit even more important than ever."
Kerry McGarvey, Programme Manager at Catalyst, said: "We've been so impressed by the way the finalists have shown resilience and continued to innovate through very unusual times. The finalists are all companies that are aiming to solve real world problems and it is clear that coronavirus has not held them back. Innovation really is alive and well in Northern Ireland.
"This year's Invent Awards will be a hybrid event which people can attend online for free. I'd urge anyone with an interest in supporting the growth of Northern Ireland's entrepreneurial community to attend virtually and show their support to this next generation of founders."
For information on how to attend Invent 2020, click the link below:
Register here
The 12 finalists selected are:
Creative Media and Consumer Internet: Sport Buff, Boop
Life & Health Science: KLAS PDT Technology, eXRT Intelligent HC
Electronics: AntennaWare, Safe Student
Engineering: AJEA, Trussbuddy
Enterprise Software: Work Plus, Movetru
Agri-Science: Born Maverick Beverages, Stallion Services
---
Finalist Profiles
Sport Buff is a next generation audience engagement for sports broadcast. Engaging viewers through live predictions, polls, votes, trivia and more over the top of video content – live, replay, archive, news and highlights.
Boop promotes an inclusive learning environment where students of all abilities including SEN are supported through one platform. Implemented in the classroom and at home, it provides consistent support, that extends beyond the school gates.
Workplus makes it easier for organisations to find apprentices. An online marketplace where companies collaborate and help people take the first or next step in their career.
Movetru is a specialist software that pairs with a user's device to provide the user with personalised information to enhance performance, prevent injury and aid in injury rehabilitation.
AJEA is ushering in a new era for flood protection. A patented flood protection system that once installed doesn't require any power source or human interaction in order to deploy. It has been designed to be completely autonomous.
TrussBuddy is a telescopic balancing tool with a rotatable head used to spread roof trusses. It's a new and exciting tool that will revolutionize the way rooves are assembled in the construction Industry, in turn making the process more efficient and safer for operatives.
KLAS-PDT Technology is a peptide based non-invasive therapy for metastatic melanoma. It is used alongside current immunotherapies to increase their effectiveness at a reduced cost to both the provider (financially) and user (less toxicity).
eXRt Intelligent HC is a transformational stroke rehabilitation system for improving patient recovery at home by providing engaging virtual reality games that adapt to personal physical therapy needs.
Púr by Born Maverick Beverages is a unique gluten free, dairy free, plant based Vegan drink which has a high source of iron and calcium. The drink comes in three tasty flavours, is ethically sourced and packaged.
Stallion Services provides innovative breeding services to equine breeders in Northern Ireland, Ireland, and further afield.
AntennaWare is a new antenna technology that revolutionises wireless communications in wearable IoT, medical and sport applications/devices, by allowing wireless continuous monitoring from sensors in situations where this was previously thought difficult and in some cases impossible.
Safe Student is a tracking bracelet with partnered app to ensure the safety of students on a night out. It allows people to find each other if they get lost or get in an accident.