INVENT 2020: MEET THE JUDGES
This week the semi-finals of INVENT 2020 take place where 18 startups and innovators will be pitching across 6 categories to win […]
June 1, 2020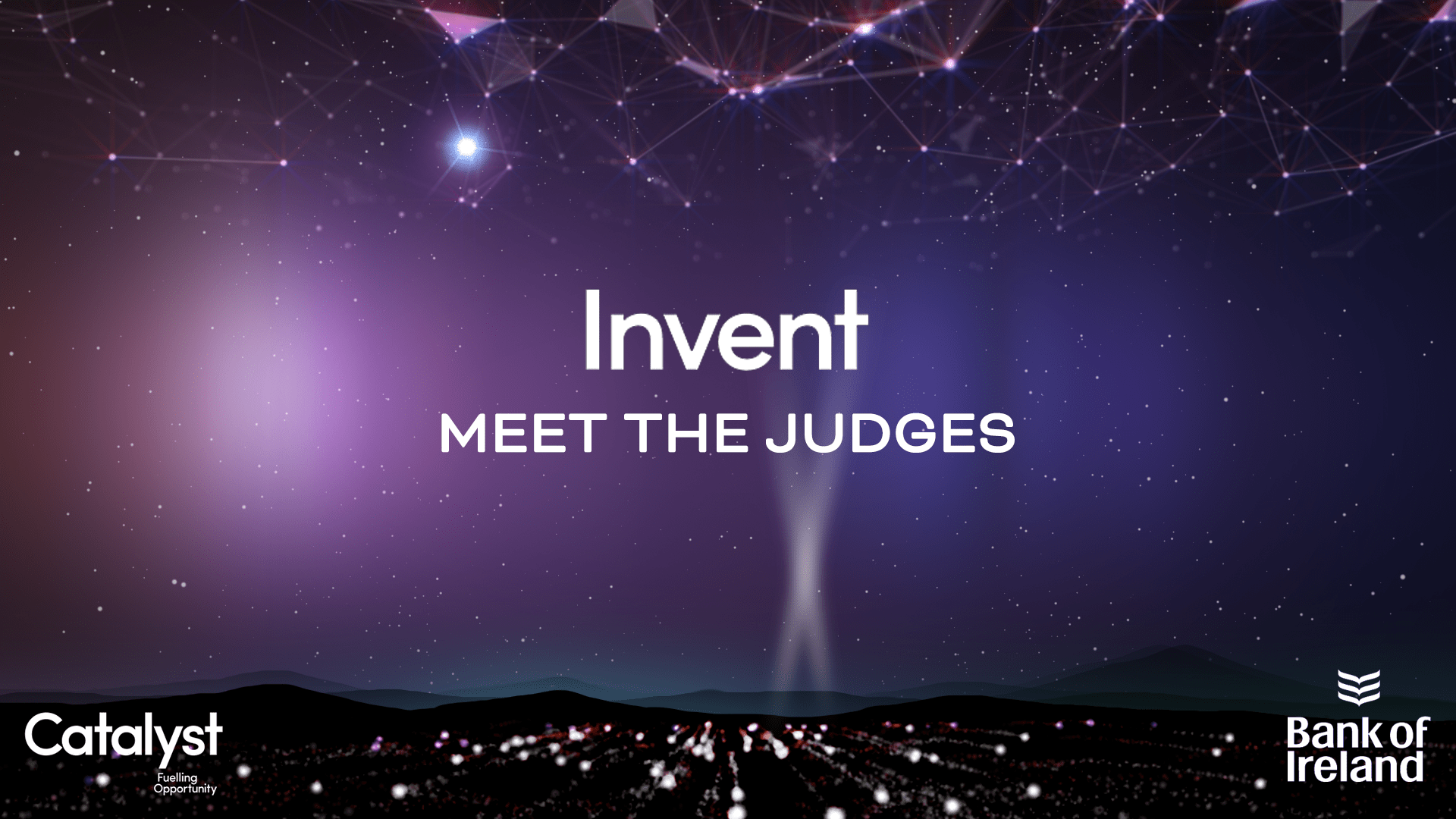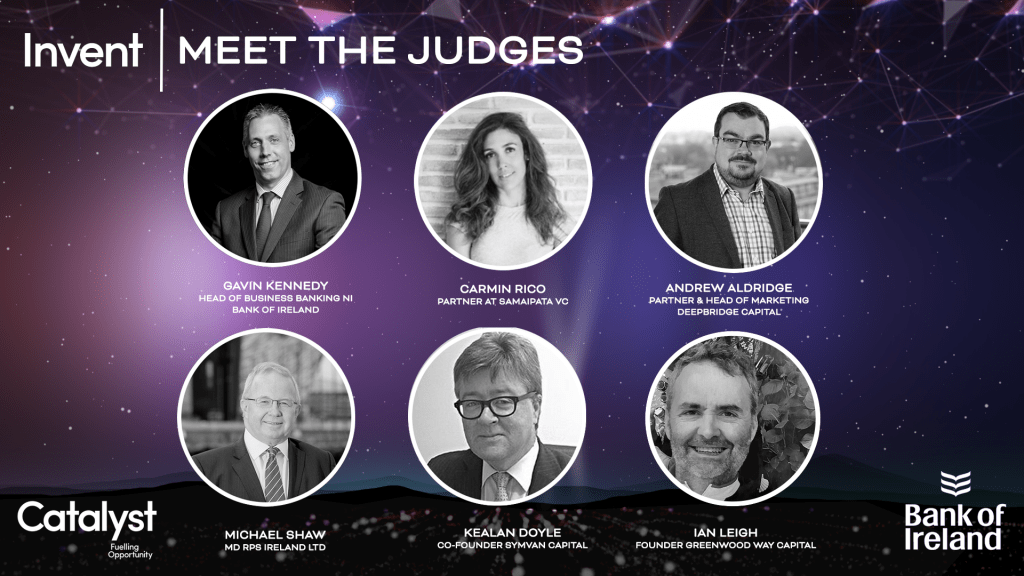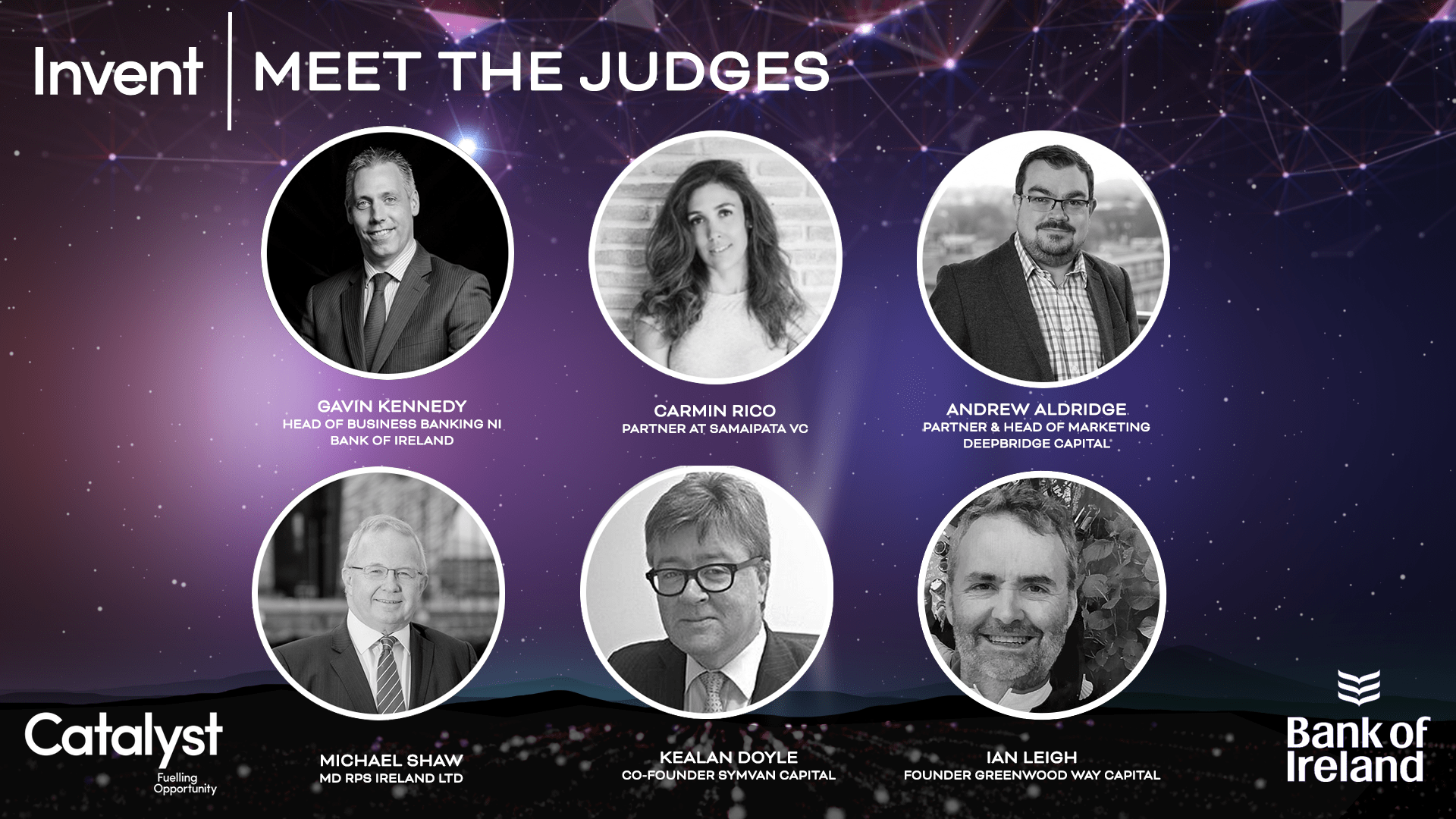 This week the semi-finals of INVENT 2020 take place where 18 startups and innovators will be pitching across 6 categories to win a spot in the final stage of the competition. The judging panel will have the difficult task of selecting the final 6 competitors. Find out more about them and their advice to deliver the best investment pitch.

GAVIN KENNEDY – Head of Business banking NI Bank of Ireland UK
Gavin is responsible for Business Banking in Northern Ireland. In leading and developing the business customer teams, Gavin's key focus is on supporting customers, managing and growing existing business banking customer relationships, and acquiring new business. During his 20 year Bank of Ireland career, Gavin has held a number of senior leadership roles including Director of Challenged Risk, the Business Banking restructuring business in NI and also led & delivered the expansion of Business Banking in the North West of England as part of the Group's wider GB strategy. He holds a first-class degree in Finance from Queens University Belfast and an MBA from the University of Ulster.
What are you looking for in the pitches?
For me, it comes down to the people and how original the idea is. Together, their passion and clear communication of their idea, the problem they are solving and its impact is what will make them stand out.

What advice/tips can you give to those that are pitching?
Breathe & go for it! Remembering that you know your innovation better than anyone. Focus on 3 to 4 clear messages to explain your idea, what it is, what problem it solves, and what impact/difference it will make to those its aimed at.

What excites you about this competition?
It's future-focused, positive, inspirational. Everyone involved is rooting for them and I continue to be amazed each year, with the talent in Northern Ireland and the potential difference they can make to Northern Ireland & indeed the global market. The competition is fierce, so narrowing down the choices is always a challenge.
Carmen Rico – Partner, Samaipata VC
Carmen is an Investor at Samaipata VC, leading the UK office. Samaipata is an entrepreneur-led pre-Series A VC fund with a pan-European and thematic approach, focused on marketplaces and platforms. They back exceptional entrepreneurs working on tech-enabled solutions that make the world more human. Passionate about mentoring and empowering early-stage entrepreneurs, Carmen mentors at Techstars and Huckletree and co-chair LMS, the largest community of marketplace founders in London. Fully convinced of the value of diversity in tech, she is the founding member of the Fairer Funding Now campaign and a mentor at Backstage Capital Accelerator.
DR. MICHAEL SHAW – Managing Director, RPS
Dr. Michael Shaw is Managing Director of RPS Ireland Ltd, a business segment within the RPS Group plc. Michael graduated with a BSc (Hons) in Civil Engineering in 1981 and following a 3-year period of research into "Wave- Current Interaction" was awarded a PhD in 1985. In 1996 he became a Partner in a local consultancy firm, Kirk, McClure, Morton, which became part of the 5500 strong Global RPS multidisciplinary consultancy group in 2004. As Managing Director of over 220 staff in NI, Michael now takes a strategic oversight for all operations and projects within the business.
What are you looking for in the pitches?
Important to convey a clear explanation of the opportunity/solution and the potential route to market.
What advice/tips can you give to those that are pitching?
Be relaxed in your presentation style, you know your stuff!
What excites you about this competition?
It's tremendously inspiring to see the entrepreneurial talent we have in Northern Ireland throughout many differing sectors.
ANDREW ALDRIDGE – Partner & Head of Marketing, Deepbridge Capital
Andrew oversees all Deepbridge communications and messaging. Andrew has a wealth of experience marketing financial and professional institutions, with over a decade of experience building credible brands and delivering real growth. Andrew is a Member of The Chartered Institute of Marketing and holds a BSc in Business Economics and Marketing from the University of Wales, Aberystwyth. He is also a patron of the Tim Parry Johnathan Ball Peace Foundation.
What advice/tips can you give to those that are pitching?
Keep it concise and simple to understand. Although you will know exactly what you mean, it is important that the pitch enables the judges and audience to quickly 'get it' in layman terms. If in doubt, practice pitching to somebody who knows nothing about your sector of expertise.
KEALAN DOYLE – Co-Founder Symvan Capital
Kealan is the Co-founder of Symvan Capital. He has worked with venture capital companies for 15 years, both in a corporate finance advisory capacity as well as a fund manager.
Symvan Capital is a VC whose interests involve B-to-B enterprise SAAS companies, with a particular focus on FinTech, blockchain, immersive technologies and tech companies that focus on human capital.
Kealan previously led a structured equity products team at HSBC and has worked at Deutsche Bank, Merrill Lynch, and UBS. He has since founded his own entrepreneurial businesses to focus on VC investing. Kealan holds degrees from the London School of Economics and the University of Toronto.
Kealan's advice to pitching companies
I would suggest that the first few sentences should focus on the problem at hand, why no one has solved the problem yet, and what is unique about your approach to
the problem. It also helps to illuminate why an investor should believe that this is a 'real pain point' for customers and not just a 'nice to have' potential problem that is being solved.
Ian Leigh Founder Greenwood Way Capital
After practicing as an electrical engineer Ian worked in investment banking for 20 years. In 2012 he started investing in early-stage UK companies that had disruptive technology and founded Greenwood Way Capital to allow others to invest alongside him. GWC grew and was shortlisted for the UKBAA syndicate of the year in 2017 and 2018. He continues to be very active and has backed some 30 companies via deals from £300k to £6m. Ian continues to assist many portfolio companies informally and via NED positions.
What are you looking for in the pitches?
Clear, concise and articulate propositions. I always say to founder is you have difficulty selling your company how can an investor have confidence in your ability to sell your product/service.
What advice/tips can you give to those that are pitching?
Time is very short so focus on the bigger picture – why is there a demand for your product and how can you successfully commercialise it – the latter is the area in which most fail.
What excites you about this competition?
Originality