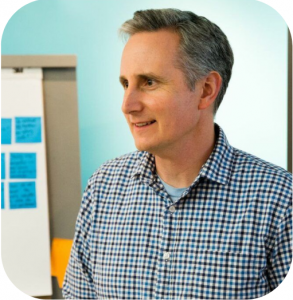 Peter Worth is an educator and learning designer working at the intersection of design thinking, leadership, professional learning, and school culture change. As a member of the design team and former co-director of the School Retool professional learning fellowship—a project of the Stanford d.school's K12 Lab and IDEO—he helped school leaders apply their hacking mindset to build toward an equitable school culture of deeper learning, preparing all students for post-secondary education, career, and civic life.
Now based in Northern Ireland, Peter consults locally and globally, working with and coaching clients in business, university, and schools, including leading Catalyst's two school leaders' fellowships in Belfast and the Northwest.
A career educator, Peter has been director of learning design and senior instructional designer for a professional learning edtech company, a senior research associate with an educational research organization, and a public school teacher in Los Angeles County. Peter holds a Master's degree in education (Learning, Design, & Technology) from Stanford University and a Bachelor's degree in theater arts from UC Santa Cruz.