Invent 2019 Finalists celebrate Innovation Founder
Catalyst was proud to announce Denis Murphy as its Innovation Founder for 2019. The finalists gathered together for the annual Innovation Founders […]
September 17, 2019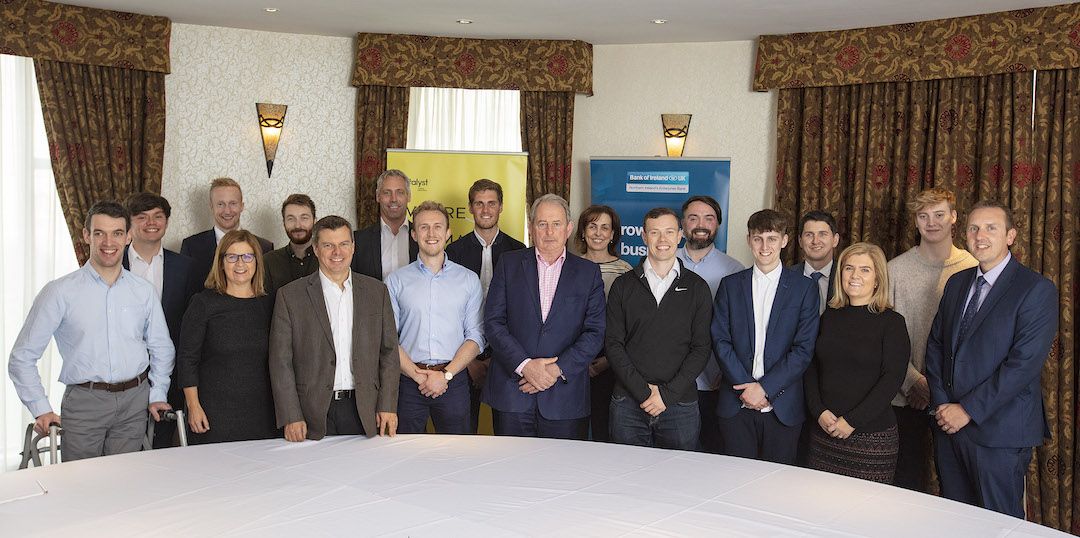 Catalyst was proud to announce Denis Murphy as its Innovation Founder for 2019. The finalists gathered together for the annual Innovation Founders lunch, organised by Headline Sponsor Bank of Ireland UK.
Denis Murphy, co-founder and CEO of cloud service company Anaeko, is the tenth Innovation Founder to be acknowledged. The lunch took place at the Europa Hotel Belfast and provided the opportunity for Denis to share his business story, including key milestones from his 20 years' experience in IT and mobile telecoms, with the ten entrepreneurs in the room.
Denis has founded and managed a number of locally based tech companies including Apion and Mobile Cohesion. Founded in 1996, telecoms software company Apion grew to become a European leader for wireless mobile network software and employed over 200 people before being sold in 1999 to Phone.com for US$239m. Following the success of Apion, Denis co-founded application software firm Mobile Cohesion, which created 70 jobs and raised more than US$20m over a six-year period.
His present business, Anaeko is a cloud integration company with a focus on data management and analytics. It employs 50 people across two sites in Belfast and Enniskillen. Denis is also an experienced angel investor who has invested in companies such as Lagan Technologies, which was acquired by Kana Software.
The Innovation Founder award will be formally presented at the Invent Awards 2019 on 10 October 2019 in the ICC Waterfront Hall, Belfast, where more than 700 investors, entrepreneurs, executives and student innovators will gather to congratulate Denis Murphy and the Invent 2019 winners.
Find out more about our twelve finalists and their innovations on our blog.
Tickets are still available at www.invent2019.co. Please contact Karen.Hall@WeAreCatalyst.org for more information.