INVENT 2021 FINALIST PROFILE – EXCAVATOR FORKLIFT
Excavator Forklift (EFL) is a mini-digger lifting attachment which allows digger users to treble the lifting capacity of their 1.0-3.5 tonne excavator and […]
September 29, 2021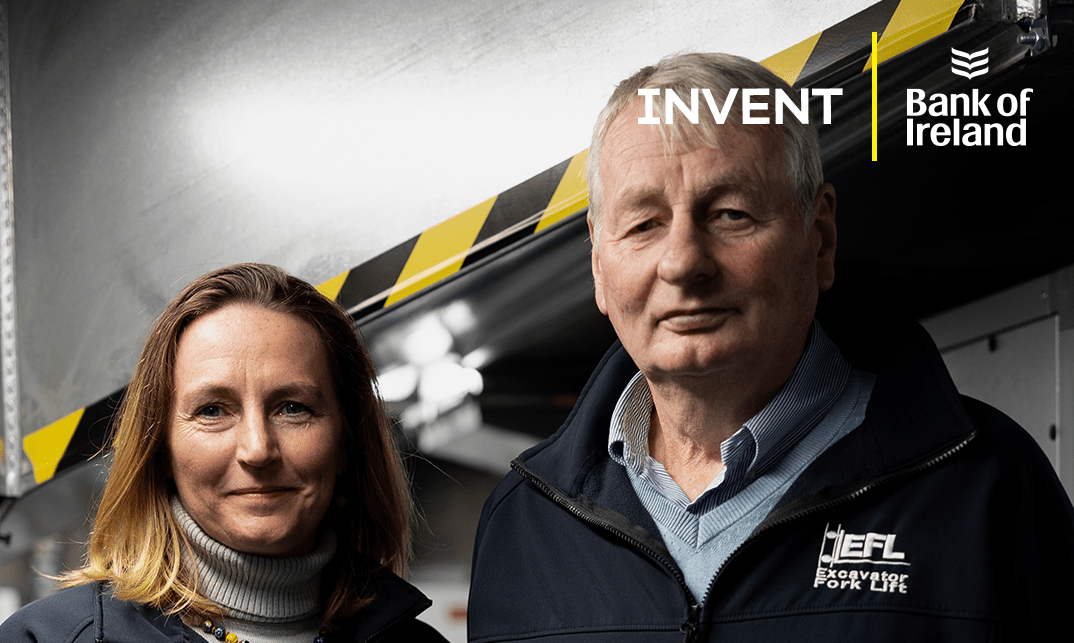 Excavator Forklift (EFL) is a mini-digger lifting attachment which allows digger users to treble the lifting capacity of their 1.0-3.5 tonne excavator and lift pallets or bagged loads in excess of 1.0 tonne.
Founders: James Russell and Heather Russell
What is your background? When did you jump into your start-up full time?
I have worked with machines all my life (since I was a boy) and graduated in civil engineering in 1971. Foundations were my main area of interest for 30 years or so. Gradually, over the last three years I have wound down the piling business and am now 200% focused on the EFL.
What inspired you to start your business?
Since childhood (from a necessity as well as challenge perspective) I was always keen to get more use from the machines I had to hand. The EFL idea grew from a real-life lifting need I had when erecting a turbine. For that job I was working with a much larger digger but that thinking process and design sparked an idea for something for smaller machines which I thought would have huge potential for many other users in the real world.
What problem are you solving?
The problem we are solving is an everyday logistics problem experienced by people in the construction, landscaping and groundworks spheres. In these industries, heavy materials are delivered to sites but often not to exactly where they need to go. Pallets are left by the side of the road or at the entrance to a larger site and need to be double-handled into place. A mini-digger is an essential part of kit in these business, but frustratingly, while the hydraulic capacity of mini-diggers is sufficient to lift heavy loads, without our attachment to help, they cannot. Diggers' design form prioritizes digging & unfortunately they are liable to tip if they attempt to lift one tonne bags of stone or pallets of block. There are hundreds of accidents every year caused by people trying to lift loads with un-adapted diggers. When attached to a digger, our attachment can lift heavy loads in a forklift-like manner. The attachment is what lifts the load with the digger providing hydraulic power, ballast and propulsion.
Who and where are your potential customers?
We think most users will be in the construction, landscaping and groundworks spheres but anyone who has a 0.8-3.5 tonne digger and occasionally needs to lift heavy materials will benefit from our machine. People who have these small diggers are generally working on small sites. Space on site is at a premium as housing densities rise. Our attachment is nimble even in these constrained spaces.

What makes your different to other businesses in this field who are already out there?
There is no solution currently in the market that meets our customers' needs as well as the EFL. Alternative solutions common in the industry require utilisation of larger machinery or manual labour to move materials. There is nothing else that takes advantage of the hydraulic power already on site in the form of mini-diggers.

What do you think is the potential for your business?
The solution we have found will be useful for huge numbers of people, worldwide. Anyone who today has to lug materials from the front to the back of a house or up a lane or even through a building should consider it. Our attachment makes the decision to invest in a digger easier to justify, because it becomes a multi-purpose item, meeting two really important and everyday needs (digging and lifting). Our attachment will transform their materials handling on site.
Where do you hope to be five years from now?
In five years' time we hope that the EFL will have proven itself as an extremely valuable piece of kit that saves time and money for thousands of users worldwide.