Generation Innovation Work Experience Programme invites young people to become innovators of the future
Pictured: (L-R) Carla McErlean, Generation Innovation Project Lead, and Judith Camblin, Generation Innovation Programme Manager, pictured with Generation Innovation alumni Catalyst's work […]
February 28, 2023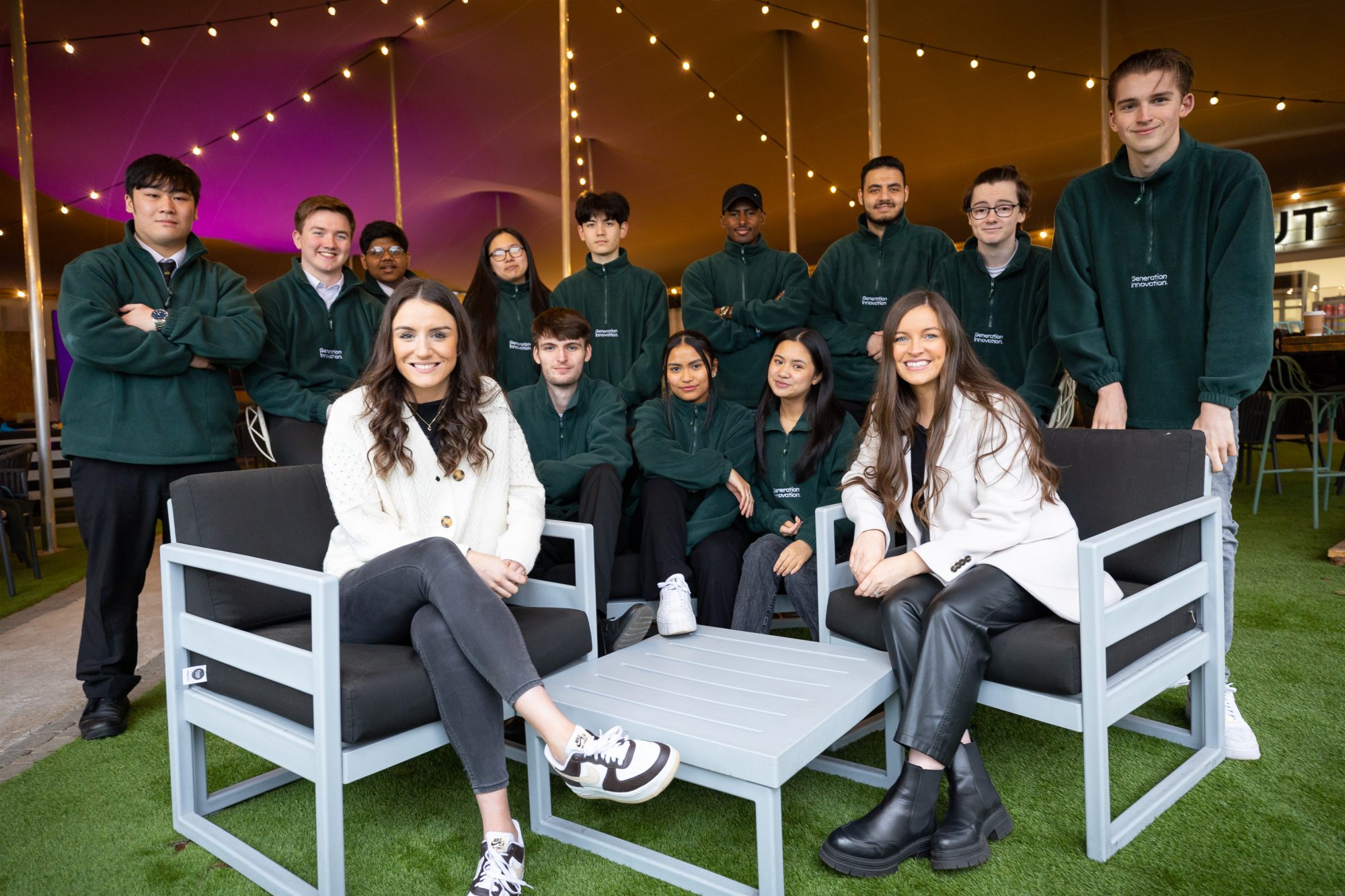 Pictured: (L-R) Carla McErlean, Generation Innovation Project Lead, and Judith Camblin, Generation Innovation Programme Manager, pictured with Generation Innovation alumni
Catalyst's work experience programme is now open for applications
Catalyst's free work experience programme, Generation Innovation, is accepting applications from 17–18-year-olds interested in accelerating their career development and learning new skills to help them think innovatively.
Established in 2018, Generation Innovation is a one-of-a-kind work experience programme designed to empower, enable, and upskill young people for the workplace of tomorrow.
Supported by the Department for the Economy, Generation Innovation gives young people a real-world working experience with some of the most successful and dynamic companies in Northern Ireland.
Since 2018, over 1600 young people from over 130 schools and FE colleges have taken part in Generation Innovation's work experience programme, with 57 companies supporting the initiative.
Over the course of 4 or 5 days (depending on which location participants apply to), participants will receive design thinking training from experts and work as part of a team to develop new ideas and solve a real company challenge.
Young people will be paired with well-known employers, such as Allstate, Artemis Technologies, and iManage, and then collaborate with their team to develop a solution to an issue that the company faces in the real world, before pitching their solution to the partner company and fellow peers at the end.
Judith Camblin, Generation Innovation Programme Manager at Catalyst, said: "Generation Innovation is a unique work experience programme where young people can come together, think creatively in a team, and solve real-world challenges. The programme energises the imaginations of young people and enables them to upskill for the jobs of the future.
"Participants are guaranteed to learn new skills in a fun way and build an innovation mindset through design thinking training. I would encourage anyone interested to apply to this programme."
Michael McMahon, a previous Generation Innovation participant, said: "The Generation Innovation programme was an amazing experience that has allowed me to not only make new friends with the same passion for innovation that I have, but also build valuable connections in the software/development field.
"The whole team at Catalyst made it an unforgettable week, with great people, partner companies, and food! Not to mention how good the programme looks on a CV."
Alongside upskilling and working with innovative companies, participants will receive free Generation Innovation merchandise and gain access to the Generation Innovation alumni network.
600 young people will take part in Generation Innovation in June across the following locations:
13th-16th June: Derry-Londonderry, The Guildhall
19th-23rd June: Belfast – Catalyst, Queen's Road
26th-29th June: Dungannon, The Junction
For more information on how to apply for Generation Innovation 2023, visit: generationinnovation.co.
Applications close on 31 March 2023.