Way to Scale Academy – Open for Applications
"Drive transformation of your business growth strategy to deliver ambitious revenue objectives" WHY Catalyst's Way to Scale (W2S) has already supported the […]
September 22, 2020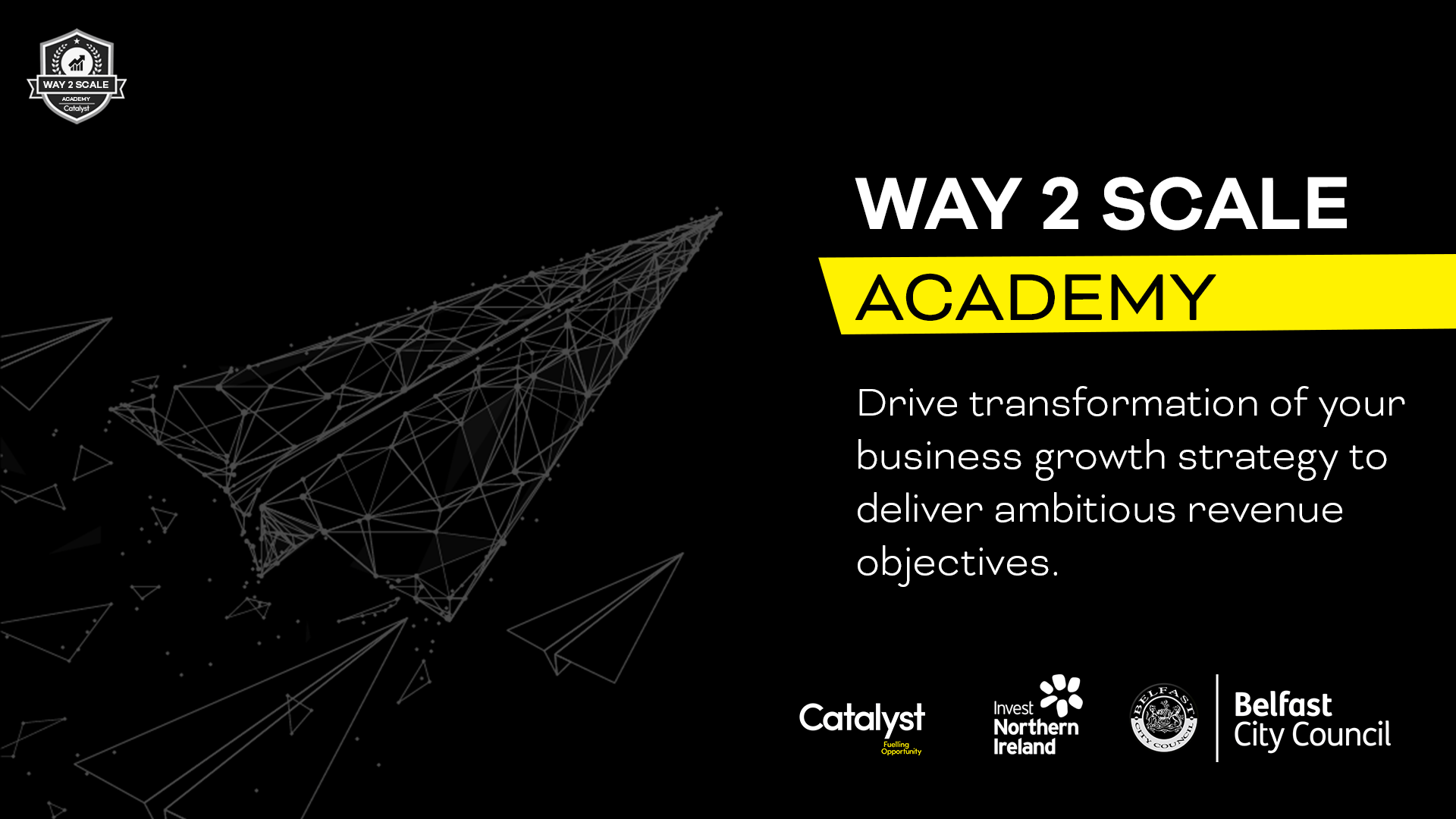 "Drive transformation of your business growth strategy to deliver ambitious revenue objectives"
---
WHY
Catalyst's Way to Scale (W2S) has already supported the transformation of 20 Northern Ireland based, innovation driven companies through substantial revenue and staff growth. The key barriers for high growth potential, export-oriented companies are scaling revenue generation through transformational, leadership strategy. Utilising Catalyst's experienced network and proven training professionals from MIT, Harvard and Northern Ireland, the W2S Academy is designed to support many more ambitious, innovation driven entrepreneurs to crack £10 million of revenue.
WHO
You're leading an innovation driven, high growth potential company already generating sales revenue, prior to April 1st, 2020 (and that is below £5M annually) and would like to challenge your "revenue engine" to deliver on your ambition, on time and within budget. You and your senior sales and marketing team are up for some transformational, challenging, thought provoking and practical training from some of the world's most successful sales, marketing and global business professionals. You can commit to a schedule of training, workshops and 1-2-1 support to deliver on your objectives.
HOW
Five 2-hour, group, morning training and workshop sessions over one week (via Zoom) that will transform your B2B sales. A further four 2-hour, group, morning training and workshop sessions over one week (via Zoom) that will challenge and support your sales lead generation, help build on your sales tactics and resource and address scaling your business. Subsequently, you can avail of up to three 1-2-1, 1-hour workshops that will challenge your ambition, scaling process and directly address your company's specific challenges, in order to deliver on your desired outcomes. Finally, you can present your refined business growth strategy for critical review to a select, very experienced panel of successful entrepreneurs and business professionals.
OUTCOMES
Transformational ambition,
A Sales focused, business growth strategy, ready to scale,
A robust go-to-market strategy, repositioned and battle hardened for the "new normal", that can deliver significantly increased pipeline and revenue,
Elevated confidence in market positioning, team dynamic and the ability to deliver,
Reduced business risk.
COMMITMENT
Approximately 22 hours of formal interaction, in bite size chunks over a period of 2 months (with some homework of course), all via Zoom virtual meetings. Group workshops and panel sessions scheduled to fit with your business needs. Thanks to the support of our partners, Belfast City Council, Catalyst and Invest NI, participants will benefit from a significant subsidy against the total programme cost, resulting in a nominal contribution charged per company (Inclusive of up to 3 people from each company).
TRAINERS
Kent Summers: is a serial entrepreneur and seasoned technology executive with 30-year contribution to the Boston entrepreneurship community in operating, volunteer and board roles. Kent currently divides his time among a number of independent activities to help founders navigate the innovation journey: from start-up to scaleup to successful exit. Kent is an Executive Leadership Coach at Harvard Business School and teaches the B2B Sales for Start-ups IAP course at MIT.
Jim Irving: is an entrepreneur and best-selling author of the B2B Selling Guidebook, with over 43 years' experience in the IT industry in senior sales and marketing roles including Silicon Graphics, Information Builders, Amdahl and Wang. Jim now works with start-ups in the technology space, helping them to execute and grow the business. Poacher turned gamekeeper, Jim advises large organisations through procurement exercises and trains companies globally in business execution, strategic sales and scaling.
John Knapton: is a Chartered Director and executive coach, with over 30 years' experience in international business development, sales, marketing and entrepreneurship. From start-ups to Fortune250 companies, he has led sales and marketing, with global market leaders including Andor, APT-X, Wearnes Cambion and Roper Technologies. John is Director of Growth & Scaling, at Catalyst, leading a team that challenges and supports entrepreneurs to transition from innovation through commercialisation to significant scale.
GET IN TOUCH
Contact John Knapton at John.Knapton@165.232.103.4 if you have any queries about the Way to Scale Academy.
Apply Here