The INVENT 2022 Semi-Finalists
Following a highly competitive qualifying round where applicants pitched their innovations to a select judging panel, 20 aspiring entrepreneurs have successfully moved […]
May 11, 2022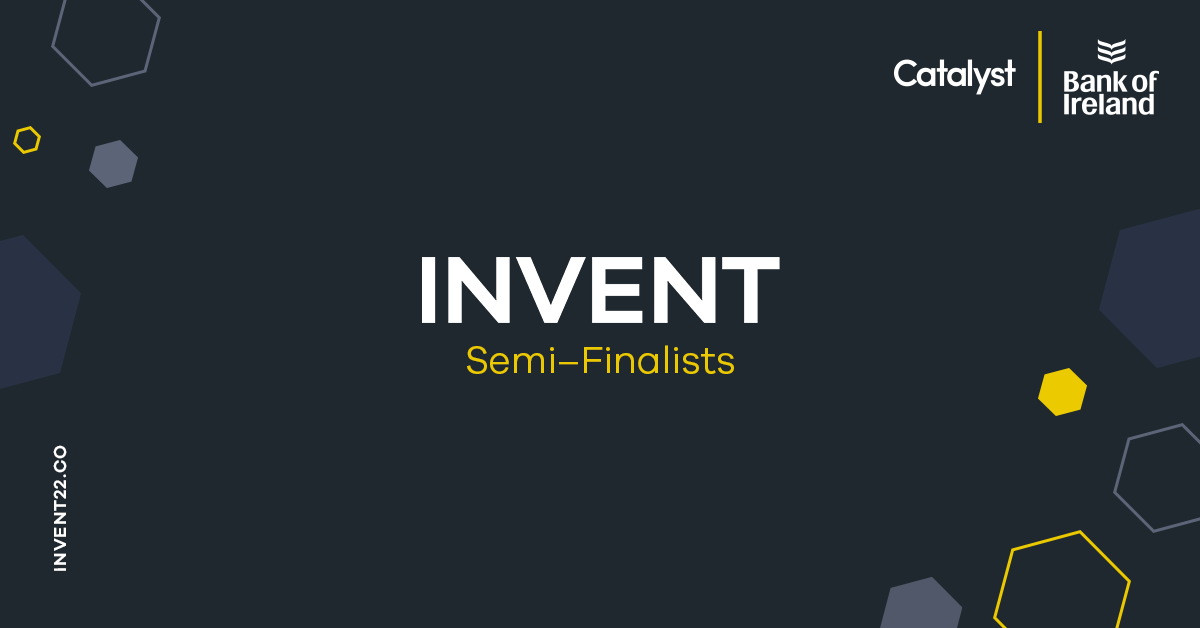 Following a highly competitive qualifying round where applicants pitched their innovations to a select judging panel, 20 aspiring entrepreneurs have successfully moved into the INVENT 2022 semi-final stage.
Organised by Catalyst with headline partner Bank of Ireland, INVENT is celebrated as the premier annual innovation competition in Northern Ireland for early-stage start-ups and entrepreneurs.
The 2022 semi-finalists are:
Greentech:

Woodlab Distillery Ltd: An innovative, novel process for manufacture of spirits using a tiny percentage of the energy compared to traditional distillation, creating the ability to transform the industry
Plaswire Limited: A solution replacing high carbon concrete with residual packaging waste and reducing incineration and landfill
Phasora Ltd: State of the art sensor technology & cloud services enabling electricity network operators to rapidly deploy precision sensor networks at scale. Providing power system operators with real-time insights to aid cost reduction and delivery of cleaner, more reliable energy to customers
Hotspot Biomass: A sustainable biofuel helping to improve the efficiency of biomass furnaces and boilers. It improves combustion resulting in a cleaner, more efficient boiler, lower maintenance requirements and reduced emissions

Health and Wellbeing:

Mind-Mapper Ltd: A non-invasive wearable neuroimaging solution recording brain function and graphing improvements across therapy sessions. The bespoke software is compatible with multiple EEG-headsets. The easy to use solution will empower talk-based therapists, by providing data demonstrating effectiveness of their therapy – moving the evidence beyond lab research and into private therapy practices
ReproGO Limited:  The generation of vascular organs outside the body using improved in vitro technology
Raidmed Ltd: An accessible thermal imaging solution used to save feet from avoidable amputation for people living with diabetes
PulseAI: An artificial intelligence solution to improve the accuracy, efficiency and scalability of Cardiac Diagnostics
Product:

Footwear Solutions NI Limited: Products customising the size and fit of footwear
Vikela armour: Next generation body armour focused on comfort and providing complete protection for everyone
Indiecom: The Swiss army knife telecommunications customers need to understand the performance of their mobile network
Field of Vision: Live sport for visually impaired fans, delivered through haptics and AI
Business Software:

Thunder: A solution changing how businesses innovate by empowering teams to share their problems and ideas
Allergy Act: A food safety and allergy management solution to support both the food industry and consumers
eZo Pay: eZoPay is an easy to set up and simple to use payment link generator for the professional services, trade and micro-retailer segments. Making it quicker and easier for clients to pay using payment links, multi-use payment links and QR codes to process payments online
GembaDocs: A solution making lean documents easy
Consumer Software:

LOTPOT: The world's biggest hypothetical marketplace where the user can propose, bid and buy any item or experience they've ever wanted
VidGaze: An online video streaming platform where users can see content from YouTube, Twitch, Vimeo, and Dailymotion (like Netflix and Amazon Prime combined but for videos).
Linc:  The world's first integrative, AI powered, smartphone sizing solution for the jewellery and watch markets. The Linc solution enables increased revenue and reduces returns and carbon footprint
Academic Fish Ltd:  Academic Fish is an inclusive, curriculum based math app developed by academics, for the understanding and translation of academic math language from English to Chinese and Irish, for post primary to university level education and has potential to expand to all STEM subjects, business studies and other languages
A huge congratulations to all of our semi-finalists! They will be pitching again soon to secure a coveted finalist spot for INVENT 2022 and the awards showcase celebration on 1st September at the ICC Belfast, which will reward the best innovations from each category, plus overall winner and elevator pitch winner.
INVENT 2022 has a total prize fund of £47,000, with each category winner taking home £5,000 and the overall winner receiving an additional £20,000. Additional prizes of £1,000 will be awarded to the best student application and the best elevator pitch delivered on the night of the INVENT Awards.