Springboard Graduate Civic Dollars Involved in Dublin Parks' Pilot Scheme
Smart D8 – a community driven health and technology initiative for Dublin 8 – has launched its largest pilot project to date […]
December 8, 2021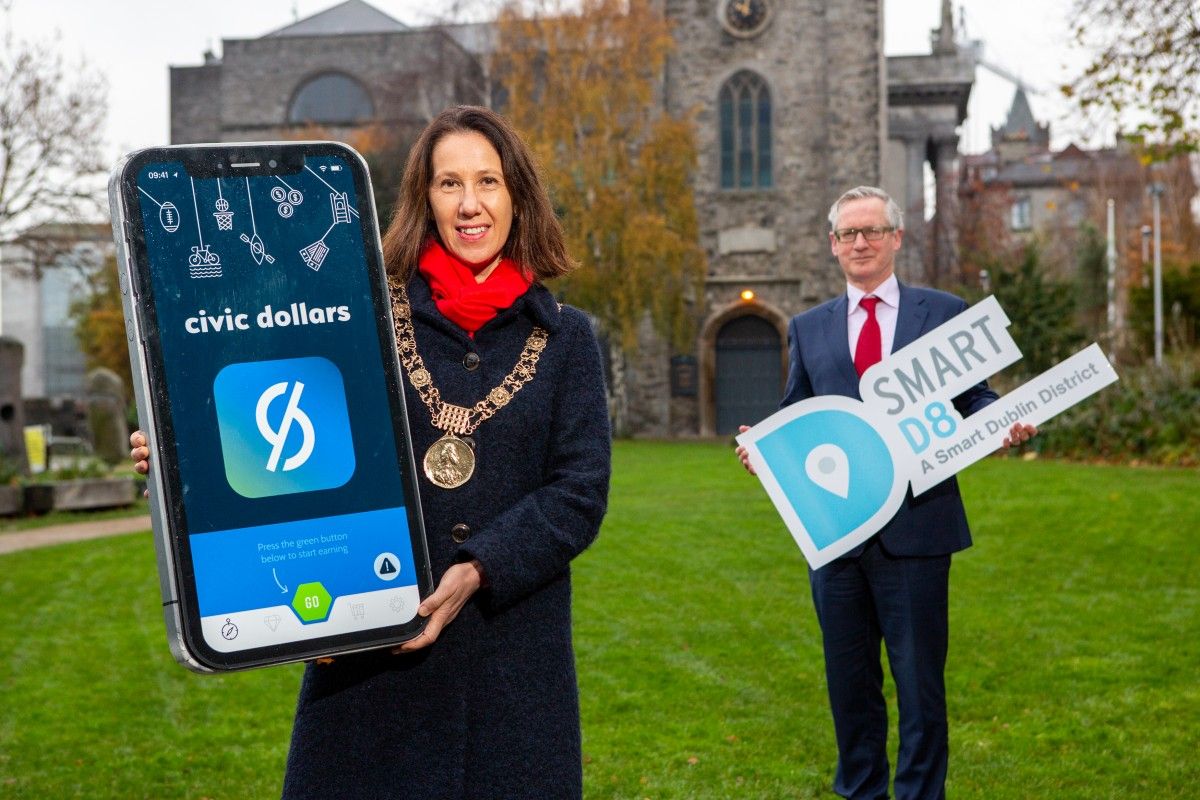 Smart D8 – a community driven health and technology initiative for Dublin 8 – has launched its largest pilot project to date with the introduction of a new 'Civic Dollars' community currency to encourage use of public parks and drive better health outcomes for the community.
The project, led by Dublin City Council, will use a smartphone app to reward visitors with the new Civic Dollars for spending time in participating Dublin 8 parks, which can then be exchanged for goods and services from local businesses or gifted to local community organisations.
Civic Dollars is the brainchild of Moai Digital founder Stephen McPeake and has already been successfully rolled out in Belfast. Over 3,000 hours of activity have been registered in participating Belfast parks, with 1,530 Civic Dollars redeemed and 1,043 donated to community groups.
There are thousands of community currencies around the world, with their use accelerating as digital technology has made their introduction and exchange more viable. They are seen as an innovative tool to stimulate local business and to create a positive feedback loop rewarding community engagement.
Companies participating in Civic Dollars by offering direct rewards to users include Epic Ireland, The Bike Hub, Mobility Genie, and Little Bird Café. In addition, users can gift their Civic Dollars to participating community groups and organisations who can exchange these for a range of useful services such as marketing advice, IT consultations, legal consultations, and graphic design work. Participating companies include VAVA Influencers, Little Bird Yoga, Core Tech IT, Paul Saxon Consulting and Éire Graphic Design.
Smart D8 was launched earlier this year to investigate how new and innovative approaches can be used to improve and sustain citizens' health and wellbeing in Dublin 8. It brings together a unique consortium of experts in healthcare, academia, local government and industry, and is being led by The Digital Hub, St. James's Hospital, Smart Dublin and Dublin City Council. Research conducted by Smart D8 prior to its launch found that only 40% of Dublin 8 residents took regular exercise, while 92% would use a recreational park for exercise if it was available to them.
5 parks in Dublin 8 are participating in the pilot: St Audoen's Park, St Patrick's Park, Weaver Park, Oscar Square in The Liberties, and Grattan Park in Inchicore. All 5 parks have seen recent investment by Dublin City Council who aims to roll the scheme out to other parks under its control if it is a success. The Civic Dollars pilot will run for 5 months, and the team are hoping to attract 1,000 users in the first 2 months.
Lord Mayor of Dublin Alison Gilliland said:
"Dublin's parks are an asset to the city, and during the pandemic many Dubliners have realised the importance of access to green space for recreation and leisure. We need to encourage increased use of our parks, and the Civic Dollars project will do that while having the added benefit of contributing to local businesses and community organisations. Civic Dollars and the wider Smart D8 project are prime examples of community-focused innovation which will improve the health and wellbeing of our citizens."
Leslie Moore, Head of Parks with Dublin City Council, said:
"Civic Dollars will further allow us to use technology to improve resources and services for Dublin parks, particularly in the Dublin 8 area. It will also give us the data and feedback needed to understand what communities want from the parks. Green space and exercise are hugely important for our mental and physical wellbeing, and I would hope that we can use Civic Dollars as a successful test case for further rollouts around the city."
Stephen McPeake, Founder and CEO of Moai Digital, said:
"With a successful version of Civic Dollars already underway in Belfast, it is a great opportunity to bring the platform to Dublin. Users can use their dollars at forward thinking businesses like The Bike Hub, or Little Bird Café, or gift them to community groups who can then use them to pay for services like IT support or graphic design. Dublin 8 has a strong community spirit, so I'm hopeful that this concept of a new community currency both boost health and wellbeing and stimulate community engagement.
Community groups participating in Civic Dollars include Warrenmount Community Education Centre near Newmarket, Robert Emmet CDP who supports communities around Bridgefoot Street and Oliver Bond House, Solas Project which has a range of programmes focused on skills for young people, and Fatima Groups United, which supports the community of Fatima and Herberton.
The technology used for Civic Dollars is non-invasive and privacy-friendly, by only using GPS data and allowing users to opt in once they enter a park. Data is anonymised, and a user's session will end automatically once they walk out of the park geo-fence. Data gathered will be used by Dublin City Council to analyse park usage and allow for future planning and infrastructure improvements.
Civic Dollars is the first major pilot project to be carried out under Smart D8, following an open call for projects in March this year. https://smartdublin.ie/smart-districts/smart-d8/