Catalyst's Siofra Frost to be a maths week ambassador
Co-Founders Programme Coordinator, Dr. Siofra Frost is one of six Maths Week ambassadors for one of the world's largest maths festivals 'Maths Week Ireland' in October.  Siofra has a real appreciation for the […]
October 13, 2021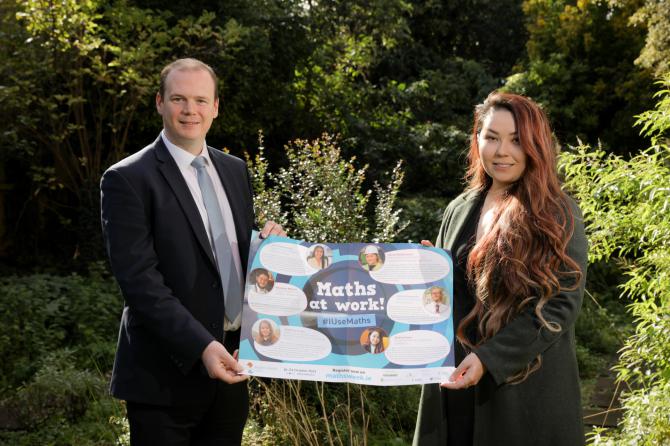 Co-Founders Programme Coordinator, Dr. Siofra Frost is one of six Maths Week ambassadors for one of the world's largest maths festivals 'Maths Week Ireland' in October. 
 
Siofra has a real appreciation for the practicality and application of mathematics and uses it daily in her studies and career to interpret data, organise information and create meaningful intelligence that guides her team's strategies and informs their decision-making processes.  
 Siofra studied maths at GCSE and A-Level at Lurgan College before attending Ulster University to attain a bachelor's in law. Following her undergraduate degree, she then went on to complete a master's degree in human rights law and a master's in philosophy, both at Queens University Belfast. After successfully completing her masters', she became a Doctor of Philosophy.    
With her business partner, Jayne Hamiliton, Siofra co-founded Studyseed CIC in 2013, a social enterprise providing educational support services to children, young people, schools and the wider community. Studyseed CIC has been nominated for education social enterprise of the year as part of the 2021 Social Enterprise Northern Ireland awards.  
Studyseed CIC support and enable children and young people through all stages of their education, from key stage 1 through to A-level offering services such as after school classes and online and home tutoring. Having grown to a team with 24 tutors, Studyseed CIC are able to provide free educational support to even more children from disadvantaged backgrounds.    
In April of this year, Siofra joined Catalyst as a Generation Innovation Project Coordinator before moving to her current role as Co-Founders Programme Coordinator in July.    
Commenting on her ambitions and passions for enabling the younger generation Siofra said, "Maths has been a key driver in getting me to where I am today. Throughout my studies I used maths to understand data to make interpretations and recommendations as part of my dissertations and when studying for my doctorate. It is something I am really passionate about, which is why Studyseed CIC is so important to me as I can provide children and young people with extra support to achieve their maths qualifications."    
She added: "Maths is a subject that I use daily, whether it be managing and forecasting business accounts, creating algorithmic solutions for data manipulation to managing my own personal finances, it is a really important part of my day-to-day life. My favourite thing about maths is that there is a beautiful purity and logic to it, and if there is a problem then you're able to systematically go back and identify it. I'm always learning more with maths and I would encourage everyone to keep studying it at school, university, and in their professional lives."  
Eoin Gill, co-founder of Maths Week Ireland said, "It's essential, particularly in this current post pandemic era, that we invest in maths skills and encourage and inspire our young people in schools to enjoy maths and see how it can impact on and benefit job opportunities and careers. Our six ambassadors are drawn from a wide spectrum of companies and organisations but each uses maths in their everyday work lives."
Running from 16th -24th October and supported by the Department for the Economy, Maths Week Ireland is one of the world's largest maths festivals and showcases the importance of maths in school, work and everyday life.  Similar to the format of 2020, the island-wide festival will be hosted largely online featuring a wide range of events and activities such as workshops, quizzes and 'MathsWeekTV' for both primary and secondary school students.    
For more information on events and resources visit  https://www.mathsweek.ie/2021/