Springboard Resolve – Open for applications
"The mechanism to challenge, develop and position your company to succeed in a new norm" WHY Northern Ireland's Growth and Scale-Up innovation […]
August 27, 2020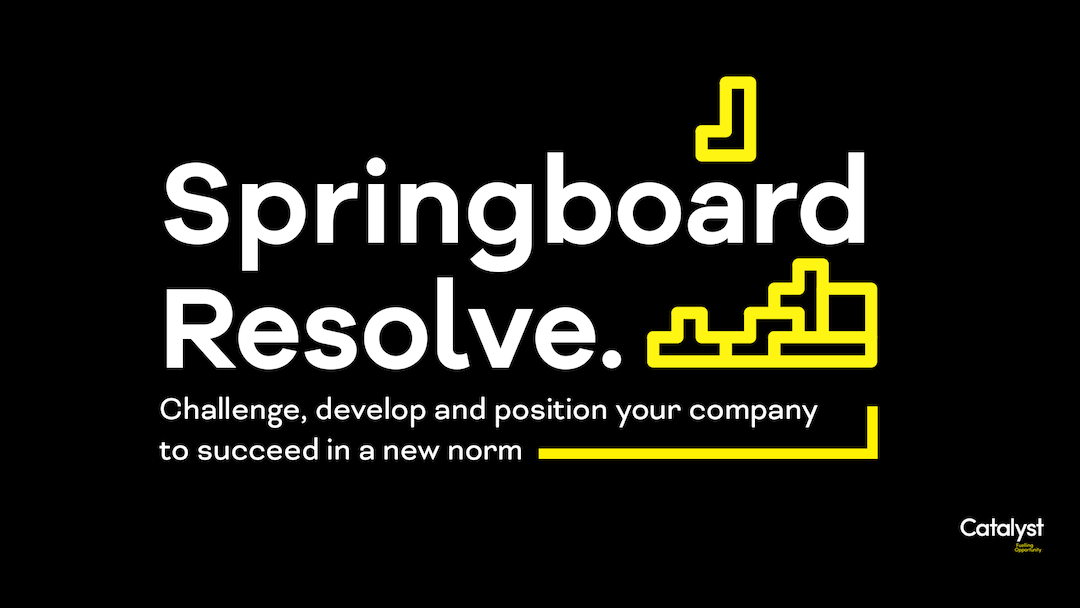 "The mechanism to challenge, develop and position your company to succeed in a new norm"
---
WHY
Northern Ireland's Growth and Scale-Up innovation companies need to develop an inherent resilience, become anti-fragile, in order to not only survive but flourish in a disrupted business environment. Whether the objective is retaining customers, winning new business, pivoting markets or positioning for funding, change and agility are fundamental to success. Springboard Resolve is designed to challenge specific strategy and tactics and support your decision-making process to develop accelerating behaviour, while minimising risk. Springboard Resolve focuses on an agreed, key objective to deliver an outcome in just three weeks
WHO
If you're leading an innovation driven company with sales revenue, prior to April 1st, 2020 (and that is below £5M annually) and would like objective, expert support and challenge from critical friends to help you de-risk your business and position your company to take advantage of the "new normal", as the world readjusts to what will be a permanently disrupted business environment, Springboard RESOLVE is for you.
HOW
A suite of business interventions tailored to your specific needs. Beginning with the Resolve triage, we will help identify key challenges and outcomes that will support your business to position itself to deliver extraordinary results. Based on the highly successful and proven, Springboard and Way to Scale programmes, up to 3 potential workshops and panel sessions will be utilised, depending on your critical need. The final, RESOLVE Critical Review element will give the opportunity to challenge updated positioning and strategy against a small but experienced panel of entrepreneurs and professionals.
OUTCOMES
A robust go-to-market strategy, repositioned and battle hardened for the "new normal", that can deliver significantly increased pipeline (sales leads) and sales revenue,
Identification, signposting (and where appropriate, intervention) to sources of finance that will support the realigned plan,
Elevated confidence in market positioning, team dynamics and the ability to deliver,
Reduced business risk.
RESOURCE
Approximately 5 hours of formal interaction over 3 weeks (with some homework of course), all via Zoom virtual meetings. Workshops and panel sessions will be scheduled to fit around your business needs. The programme is offered free of charge to Northern Ireland based companies.
The full Springboard programme also continues at a pace for those companies requiring challenge and support to de-risk the wider business plan to crack £1M in revenue. If you would like to hear more about the full programme, please contact Paul Clancy here.
GET IN TOUCH
Contact Trudy Parry at Trudy.parry@165.232.103.4 if you have any queries about Springboard Resolve.
Apply Here
---
WHAT PREVIOUS PARTICIPANTS WANTED
"To improve the business, specifically related to Go to Market strategy."

"Increase sales – suspected I knew what I was doing wrong and wanted to confirm this."

"Sanity check our strategic review especially sales and marketing."

"Position for a capital investment."
---
WHAT PARTICIPANTS SAID:
"Very worthwhile especially engaging the wider senior team."

"Agreed an action plan to implement a Sales Strategy – the plan is working."

"I found the presentation to the panel the most useful – their feedback was invaluable."

"Wouldn't hesitate to recommend Springboard Resolve."