Catalyst – Innovation (Good) News Roundup #1
The times we are experiencing are without doubt challenging, chaotic and uncertain. COVID-19 has kicked off the new 20's with a black […]
April 10, 2020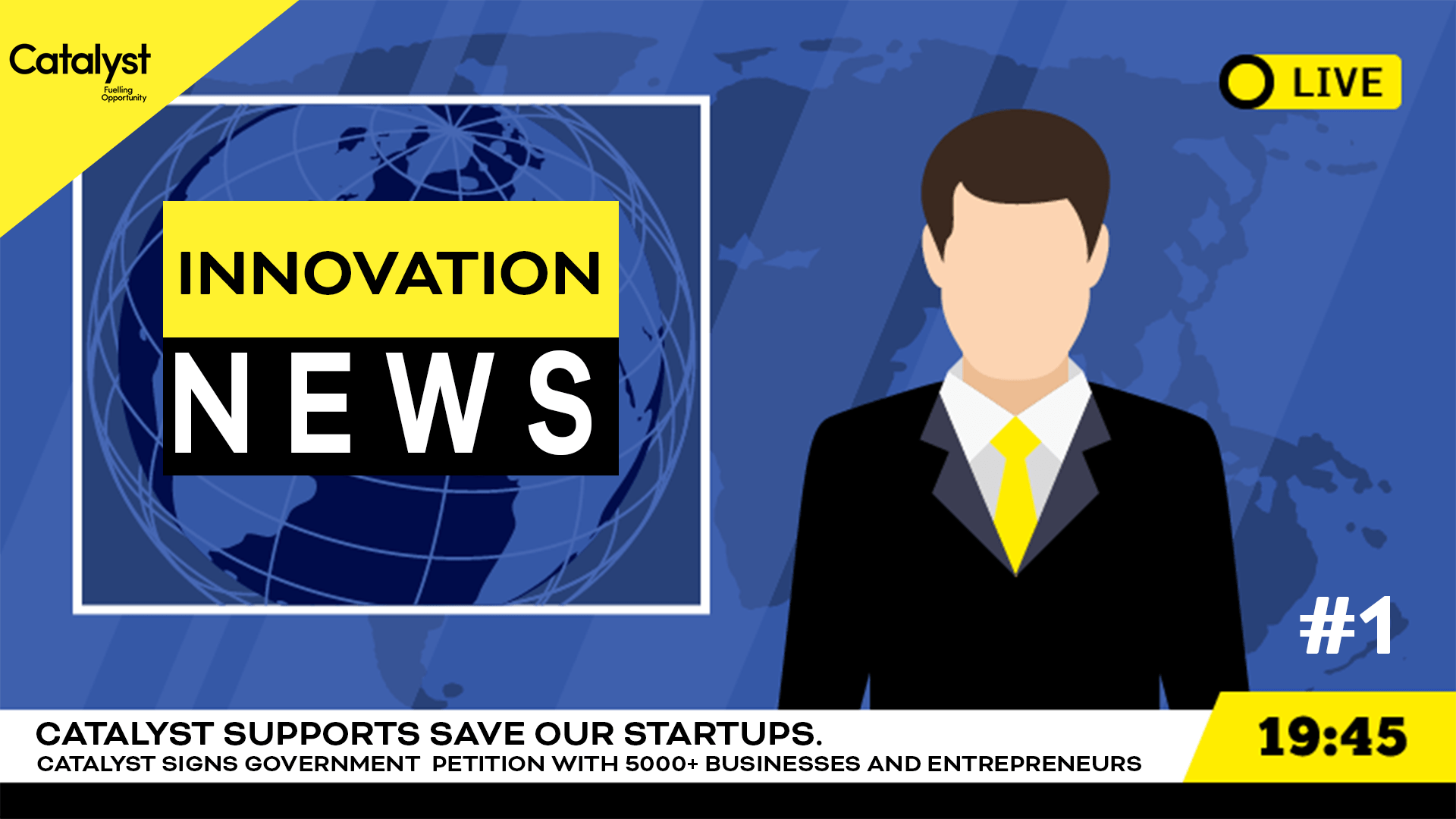 The times we are experiencing are without doubt challenging, chaotic and uncertain. COVID-19 has kicked off the new 20's with a black swan event that is impacting business, innovation, and most importantly families on an extraordinary level everywhere across the world. The Catalyst Innovation Community of businesses, Entrepreneurs in Residence and innovators has been no exception to this and we have all had to adapt speedily to this new reality.
Over the past few weeks we have been pivoting all of our communities, services and programmes online, utilising slack channels, zoom calls and increasing digital communications to keep the community engaged, connected, served and up-to-date during the pandemic. It's definitely not 'business-as-usual' but in these times, the ability to share ideas, network, develop new business and innovate is now needed more than ever.
In this feature, we'd like to 'tip our cap' to everyone who is making a difference in this time as well as celebrate those who are succeeding and rising above adversity to do some truly great things for Northern Ireland and further afield.
Ampliphae Wins Place a Place on Tech Nation 2.O
Ampliphae, a leading N.I SaaS Management company, has been announced as one of the companies chosen for the Tech Nation Cyber 2.0 program. Tech Nation Cyber 2.0 is the UK's premier scale-up programme for ambitious cybersecurity companies, designed to accelerate growth for these companies at home and abroad. During COVID-19 with businesses reducing their workforce and shifting to working from home models, enhanced and super robust cybersecurity is in huge demand stopping breaches and opportunistic hackers taking advantage of the situation. Ampliphae is rising to the challenge.
Queen's University leading cell therapy clinical trial to help improve outcomes in COVID-19 patients
Researchers at Queen's University Belfast are leading a UK-wide clinical trial, offering an innovative cell therapy treatment for COVID-19 patients with acute respiratory failure.
Denroy Plastics begin assembly of HeroShield kits for Frontline workers in COVID-19 crisis.
Denroy are now involved in the manufacture and assembly process of the HeroShield protective visors. HeroShield is a not-for-profit collaboration of local companies coming together to provide PPE equipment to local NHS workers in Ireland and Northern Ireland, free of charge throughout the COVID-19 crisis.
SureCert and IoD Launch New Instant Matching Service for Displaced Workers and Companies.
Over the last fortnight, the IoD (NI) has been working closely with Belfast-based company SureCert to provide an instant matching service for displaced workers and companies actively seeking to recruit. The candidate matching service launched this week and it will be free to all businesses for the next two months.
Derry firm Elemental enhances platform to respond to COVID-19
A health tech start-up from Derry is enabling the NHS, Councils, housing and community and voluntary sector organisations to work better together to provide COVID-19 support for the most vulnerable.
Catalyst Entrepreneur in Residence Clare Passmore Calls to Help HSC Hands.
Whilst caring for her father, Clare noticed the frustration of his health care worker whose hands were constantly irritated through increased hygiene protocols and were exacerbated by prolonged sweating caused by his blue gloves.
'Health care workers have always followed strict cross infection control, thoroughly washing hands before and after touching a patient, but we now see them having to adopt additional measures. You've seen the pictures of frontline staff in PPE and you've seen the ubiquitous blue gloves. Now every health care worker scrubs their hands for 45 seconds just like a surgeon and then gloves up before action. They wear them in high dependency and they wear them out in the community when entering a patient's home to ensure medication is taken. They say their hands are 'red raw' from continuous washing and those blue gloves start to sweat and hurt something shocking when you have to wear them for prolonged periods – I know I've done it.' – says Claire.
Some cosmetic brands are supplying free hand-care products to NHS staff in England during this current crisis – but not NI. Clare's aim is simple; to ensure that every healthcare worker has a safe pair of hands by providing equitable access to adequate hand care products our front-line HSC workers in Northern Ireland.
Clare is looking for introductions in relevant large and small businesses or consumer suppliers who would be willing and able to donate, ensuring that our local HSC worker's hands stay patent so they can continue the essential service we all need and demand.
If you would like to support Clare you can get in touch with her by email
Contact Clare and Support Hands for HSC
Help the government increase coronavirus (COVID-19) testing capacity
The government wants help from businesses to increase testing capacity in the UK as part of its strategy to protect the NHS and save lives.
Catalyst Pledges Support to Save Our Startups
This is an opportunity for founders, employees, shareholders, customers and the wider ecosystem supporting Britain's startup and high growth businesses to tell the UK Government what needs to be done to protect their future. Catalyst has signed the petition along with 5000 other businesses and collectives.
Have some news that you would like to share?
Drop us a line with your news and updates and it could be included in our next update.
Helpful Links
NI Start-ups and Scale-ups Impact Report