Coronavirus (COVID-19) – Update 2
Catalyst – Reduced Operations Mode The Coronavirus (COVID-19) situation in Northern Ireland is unfolding at an aggressive pace. With increases in reported […]
March 18, 2020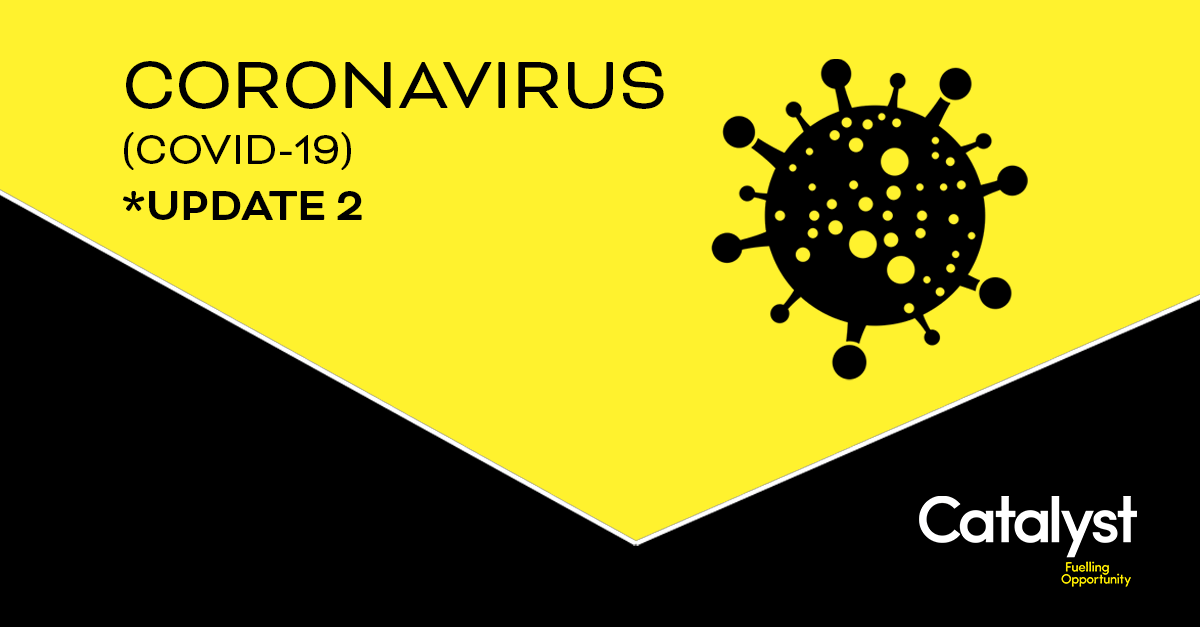 Catalyst – Reduced Operations Mode
The Coronavirus (COVID-19) situation in Northern Ireland is unfolding at an aggressive pace. With increases in reported cases across Northern Ireland, the impact to our members and community is now unfortunately inevitable.
We are pro-actively adapting to the COVID-19 situation and implementing enhanced measures to minimise the potential for exposure and reduce the risk of infection.
The majority of Catalyst members are now working remotely with others quickly transitioning to remote working models. The number of people onsite at Catalyst campuses has significantly reduced and will continue to reduce over the coming days/weeks.
Catalyst will continue to be open for members who wish to remain on-site and we will be advising members to ensure they adhere to social distance measures and sanitisation protocols advised by the Public Health Agency.
Whilst our onsite operations might be reducing, our commitment and dedication to the Innovation community of Northern Ireland remain unchanged.
Our goal now is to help Northern Ireland's innovation community adapt to this new unprecedented reality and provide as much resource, guidance and support as needed over the coming weeks. Catalyst Community Managers and Programme Managers are in daily contact with members and participants as we implement contingency plans to drive innovation in Northern Ireland.
The Catalyst team is working hard on creating tools, resources and new platforms for the innovation community to thrive as businesses across all sectors feel the blunt force of this pandemic. We are liaising with the relevant bodies to get a clear view of the potential support and relief measures that could become available.
Should you have any questions or recommendations, please don't hesitate to get in touch with us.
We are here for you!
Information about COVID-19
For the most up-to-date information about Coronavirus (COVID-19) please visit the Public Health Agency (PHA) and the World Health Organisation (WHO). Here you can find information about the issue as well as finding frequently asked questions.
Public Health Agency– Information and guidance about Coronavirus (COVID-19)
World Health Organisation – Frequently asked questions about Coronavirus (COVID-19)