Co-Founders: The entrepreneurial journey of Northern Ireland's female founders
Emma Corbett and Lucie Munier – insurin, winner of £10k grant Co-Founders 2022 Northern Ireland and the UK are seeing the number […]
December 7, 2022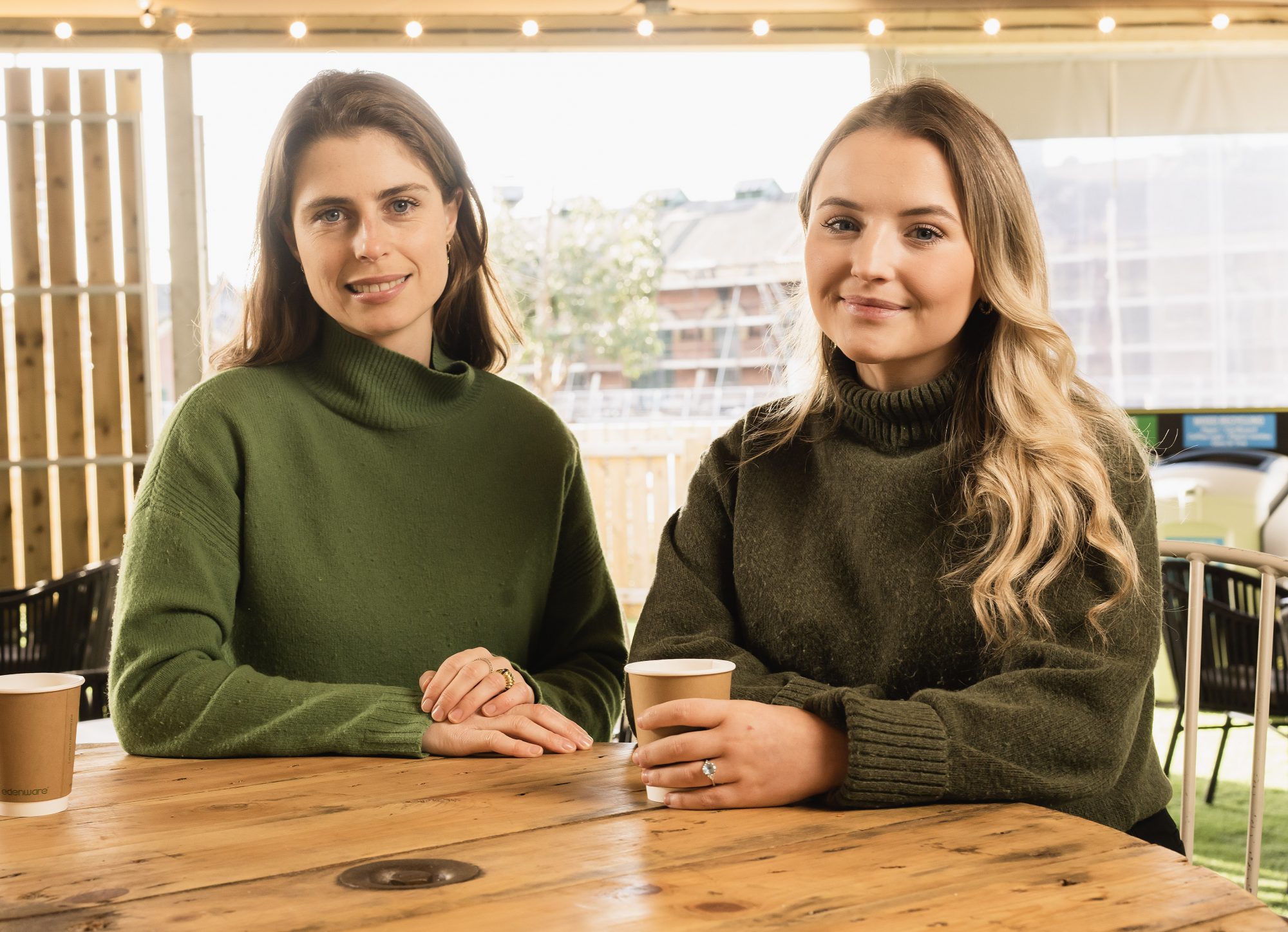 Emma Corbett and Lucie Munier – insurin, winner of £10k grant Co-Founders 2022
Northern Ireland and the UK are seeing the number of female-founded businesses increase every day. These inspirational female founders are leading the way in their respective industries, from new software that could revolutionise health outcomes to innovative new product developments.
The 2022 Rose Review Progress Report, published in February, revealed that more women than ever are starting new companies, with 145,200 all-female-led businesses in 2021 in the UK, up from 56,200 in 2018. In Northern Ireland last year, we saw 1,545 companies established by women, double the figure in 2018.
A lot of progress has been made in recent years, but we know that huge challenges remain for female entrepreneurs.
Only 1 in 3 UK entrepreneurs is female, a gender gap equivalent to 1.1 million missing businesses. Additionally, male-led SMEs are 5 times more likely to scale up to £1 million turnover than female-led SMEs. More locally, Northern Ireland has the lowest rate of female entrepreneurs in the UK, sitting at just 26%.
The pandemic has exacerbated the problem; female entrepreneurs spent twice as long on caring responsibilities during the pandemic as their male counterparts, and their businesses have been less likely to recover.
More needs to be done, and this year at Catalyst, we launched our new 5-year strategy with a strong focus on inclusive innovation. We committed to several key targets to enable better opportunities for everyone across Northern Ireland, including:
Identifying and supporting the development of 100 prominent role model entrepreneurs – founders of innovative, sustainable start-ups from diverse gender and socio-economic backgrounds
Having 1,000 individuals from underrepresented groups participate in Catalyst innovation programmes who between them will launch 50 new products
Supporting 20 new sustainable start-ups founded by females and/or non-university graduates in the next 12 months
Through our programmes, such as Co-Founders, we want to empower more female entrepreneurs and support diversity in the start-up industry.
Co-Founders brings together a wide range of people from diverse backgrounds, allowing participants to meet potential collaborators and create a start-up in a safe, risk-free environment. At the programme's core, Co-Founders is about connecting our community, regardless of background, to develop new ideas and solutions.
As we near the deadline for applications to Co-Founders 2023, we caught up with previous female participants to shine a light on their amazing work, see where they are now, and learn how Co-Founders helped them on their entrepreneurial journey.
Emma Corbett and Lucie Munier – insurin, winner of £10k grant Co-Founders 2022
Emma Corbett and Lucie Munier are two of the co-founders behind insurin, a mobile app for people who have been newly diagnosed with type 1 diabetes that helps users to understand the health condition in a simple way.
The idea came about from Emma who was diagnosed with diabetes at the age of 17. After her diagnosis, Emma was sent home with lots of leaflets and limited guidance, leaving her feeling very overwhelmed. To prevent this happening to others, Emma came up with the idea of insurin.
During her studies, Emma realised if she wanted to make this idea a reality, she would need other skills to take the business that step further. That's when her lecturers told her about Co-Founders, so Emma applied and met her co-founders Lucie and Tom.
Co-founder Lucie knew that being on the Co-Founders programme was something she always wanted to do. She had a wide range of skills from her law degree, medical degree, and start-up experience that could be utilised to help a business get to the next stage.
"There is no textbook on how to be a start-up entrepreneur, but Co-Founders combined a lot of methods in a clear and concise way which was really helpful," says Lucie.
Lucie adds: "The positive thing about Co-Founders is it gives you time and space to solely concentrate on your business without having to give up your job."
Emma said the programme really helped her to gain skills in public speaking, people management, and leadership. She found herself becoming more confident and learnt how to bounce back from negative feedback.
Since Co-Founders, the insurin team has a clearer picture of the steps they need to take to get their business to the next stage. They're currently working with back-end developers as well as undertaking user testing, which will help take the app to launch.
On the topic of female entrepreneurs, Lucie feels that we must do more as a society to elevate women in the industry and that organisations and grants which empower women in the start-up industry are essential.
Lucie says: "Seeing a female in a senior position is inspiring. Don't give into imposter syndrome. I felt that as I was going into the programme with skills rather than an idea that I wouldn't be good enough, but I couldn't have been more wrong. I would recommend anyone to join, especially females. People want to see female founders do well so use that to your advantage and don't give into any negativity."
insurin were successful in receiving a £10k proof-of-concept grant in Co-Founders 2022 which has led them onto Co-Founders+, the next step in the programme to help them continue their start-up journey.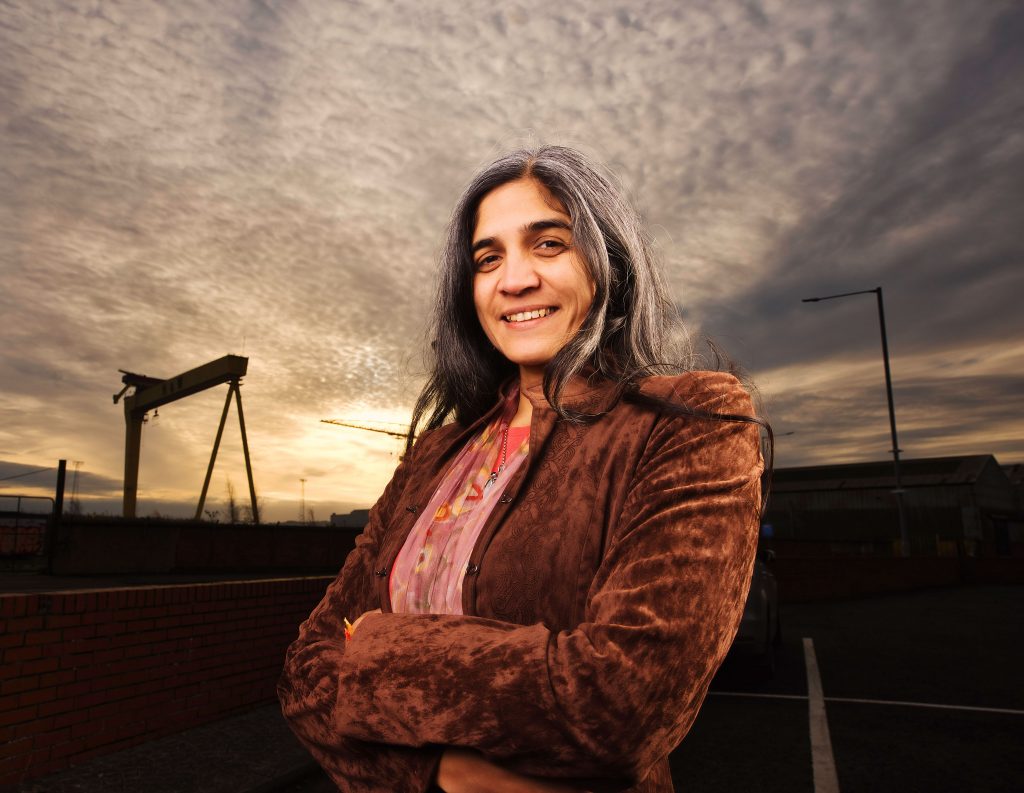 Juanita Rea – MEtime Mandala, Co-Founders finalist 2022
Juanita Rea took part in Co-Founders 2022 with her team MEtime Mandala. They were successful in reaching the final of the competition which gave them the boost to keep pushing forward with their service.
MEtime Mandala is a tech-for-good start-up enabling access to mental health support for underserved communities.
After studying as a teacher for years, Juanita realised there are very complex problems across society that we need varied solutions for. Following her passion for mental health, Juanita stepped out of her teaching role and travelled around the world helping underserved communities with their mental health. Along her travels, Juanita met Anirudh and Amit who would soon become her MEtime Mandala team.
Taking part in Co-Founders gave them the structure they needed and helped to answer the questions they had. Thanks to the programme they were able to connect with a tech team based in India who could help them with the digitisation of their service.
Juanita says: "Every single session was meaningful. Having the different speakers come in and hearing from other entrepreneurs was exactly what we needed. The programme helped our team to become clear on market techniques, value propositions, and pricing structures. Although we missed out on the grant, it hasn't stopped us from going forward with our company."
Speaking about female representation in the tech industry, Juanita adds: "It's very rare to have a female founder of a tech-for-good company, especially one who's not from a tech background. It makes it even harder when there are fewer females of colour in the room."
"There needs to be a wider representation of women in the industry and we need to hear those voices and those stories to really make a difference. Of course, it's great to have spaces and organisations for women to support women, but we also need men to be our allies too."
Juanita encouraged female entrepreneurs across Northern Ireland to sign up to Co-Founders 2023, including those who don't necessarily have an idea or a solution for a business.
"It is all about wanting to make a difference in the world and caring about a problem enough to focus on it with a team and come up with a solution."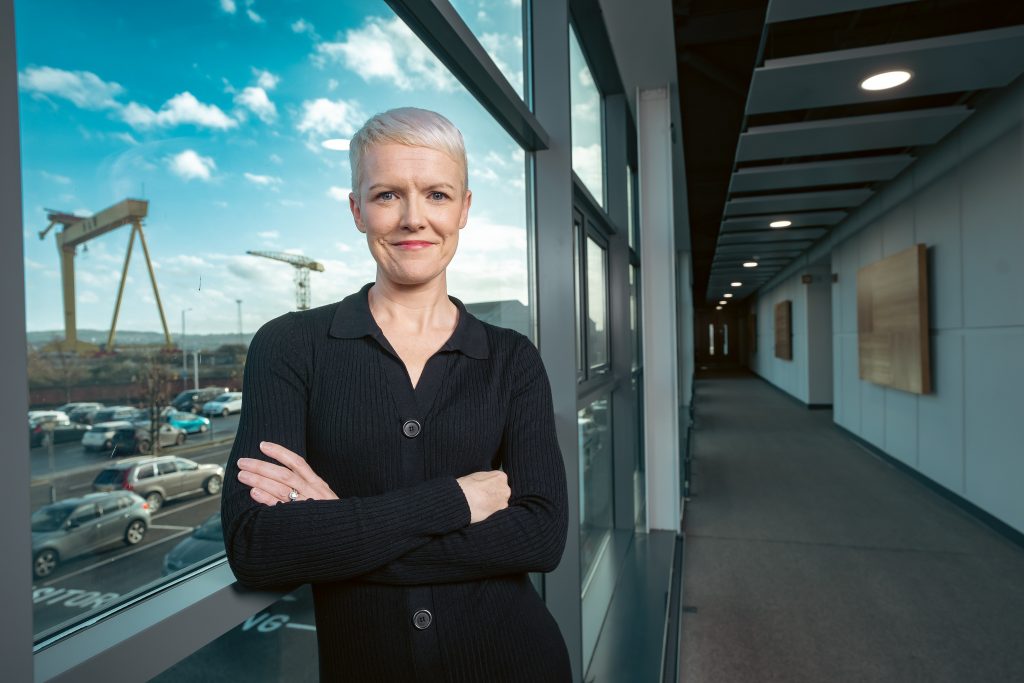 Emma Jane Magee – Mad Crab, winner of £10k Co-Founders grant 2021
Emma Jane Magee took part in Co-Founders 2021 where she was successful in receiving a £10k grant to continue on her entrepreneurial journey.
As a mother of three kids, Emma Jane had issues getting shoes to fit them properly. While on maternity leave with her third baby, Emma Jane decided to do something about the issue, joining Co-Founders in the hope of creating a solution.
Co-Founders allowed Emma Jane to create the idea of a technology enabled shoe brand called Mad Crab. Mad Crab is an online sizing technology and new shoe brand where people can purchase a quality and affordable shoe which actually fits their child.
Emma Jane says: "Co-Founders gave me the opportunity to put the entire idea together through the ideation sessions. The programme really made me think about the product and what exactly needed to be done to make my dream a reality. It helped me to complete the picture and come up with a unique service."
In terms of practical steps that could be taken to better support female entrepreneurs, Emma Jane said that more information is needed: "It's so hard to know where to begin and what's out there for us. It took doing this programme with Catalyst to actually start to see things around me."
When asked what advice Emma Jane would give to fellow female entrepreneurs she says: "You need to have confidence in yourself and your product as you will be faced with a lot of rejection. I'd also recommended reaching out to fellow entrepreneurs for advice to see how they got to where they are."
Since joining Co-Founders, Emma Jane's product is now out for wear test on little feet and the programme has enabled her to bring it right through from prototype to an actual product. She adds: "In order to get more funding, it's so important to have a product to show people, which Co-Founders has helped me to do."
–
You can apply for Co-Founders 2023 at co-founders.co. Applications are open to anyone and the programme is 100% free. The deadline to apply is 16 December 2022.