Students solve real council challenges in Generation Innovation Impact Day for Enterprise Week
As part of Enterprise Week 2022, students from schools across Derry and Strabane came together to solve council challenges in Catalyst's Generation […]
March 16, 2022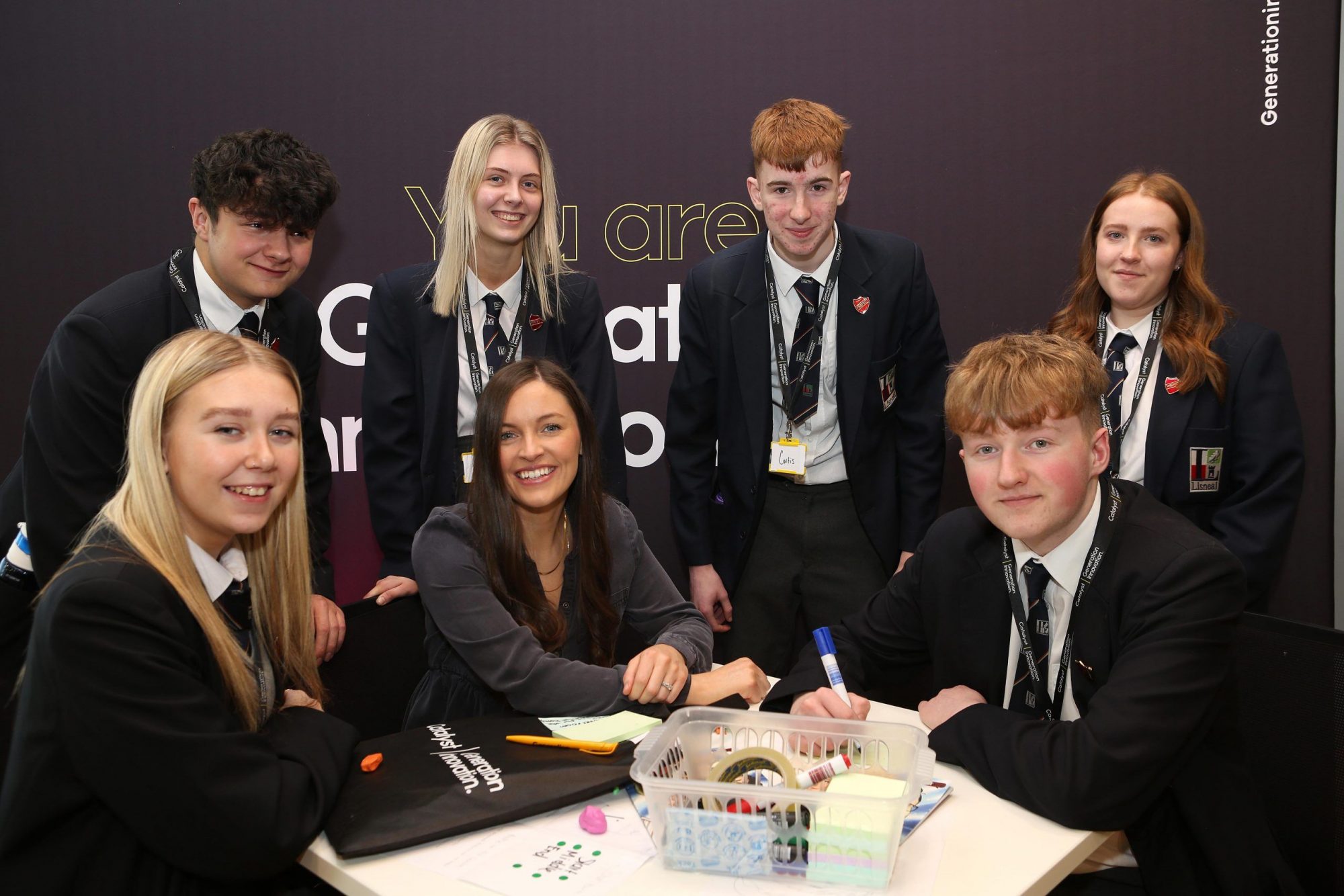 As part of Enterprise Week 2022, students from schools across Derry and Strabane came together to solve council challenges in Catalyst's Generation Innovation Impact Day.
Celebrating 10 years, Enterprise Week took place from 7 – 11 March 2022. The annual programme touches on a broad spectrum of priority areas for local businesses including marketing, digital technology, innovation and growth.
For Enterprise Week 2022, Catalyst hosted a Generation Innovation Impact Day for students across Derry and Strabane to examine and solve the socio-economic challenges faced by the local council.
A Generation Innovation Impact Day is a time-constrained, five-phase process that uses Design Thinking with the aim of reducing the risk when bringing a new product, service or a feature to the market. It takes students on a Design-Thinking journey, leading them from identifying a problem, to working through several stages to iterate and design a solution all in one day.
The challenge tackled by students from schools such as Foyle College, Oakgrove Integrated College and St Cecilia's College was 'How can we reduce the rate of hidden homelessness amongst our young people?'.
The students went through the several stages of the day with the help of Catalyst's GI team and came up with solutions such as 'Stay 4 a Day' initiative where young people could attend a respite centre for wrap around holistic care to meet the needs of young people affected by hidden homelessness.
Speaking about the day, a student from St Columb's College said: "The Catalyst Design Sprint was so much fun and really made my friends and I work together to come up with solutions to some difficult challenges such as homelessness faced by the local council.
"Our team came up with the idea called 'Creative Coffee', a student ran, social support hub for young people to book in-store tutoring and councillor support to try and help the issue. The design sprint taught us how to work in a team, think critically and understand user-centred design. Although it was challenging, it was a great experience and has made me consider the Generation Innovation work experience programme."
Judith Camblin, Generation Innovation Programme Manager at Catalyst, said: "The Generation Innovation Impact Day during Enterprise Week saw so many determined students work together and come up with great solutions and ideas to help solve some big problems faced by the Council.
"The Impact Day gives students a taster of the full Generation Innovation work experience programme which will take place across three locations this June. We hope that this event has encouraged some of the talented students involved to apply for the work experience programme this Summer."
Generation Innovation is a five-day work experience programme for 17 – 18-year-olds that aims to inform and upskill the entrepreneurs of the future. The young people work together to solve a company challenge, develop a solution and pitch to a partner company and their fellow peers.
The programme will take place in Derry-Londonderry in the University of Ulster's Magee Campus from the 14 – 17 of June 2022. Two more programmes will take place from the 20 – 24 of June in Belfast, followed by the 27 – 30 June in Armagh.
For more information, please visit generationinnovation.co. Applications close on 29th April.