'This is a five-star resort for innovation'
Steve Orr of Catalyst speaks to John Breslin about the journey to becoming the tech heartland of NI. Steve Orr, chief executive […]
September 15, 2021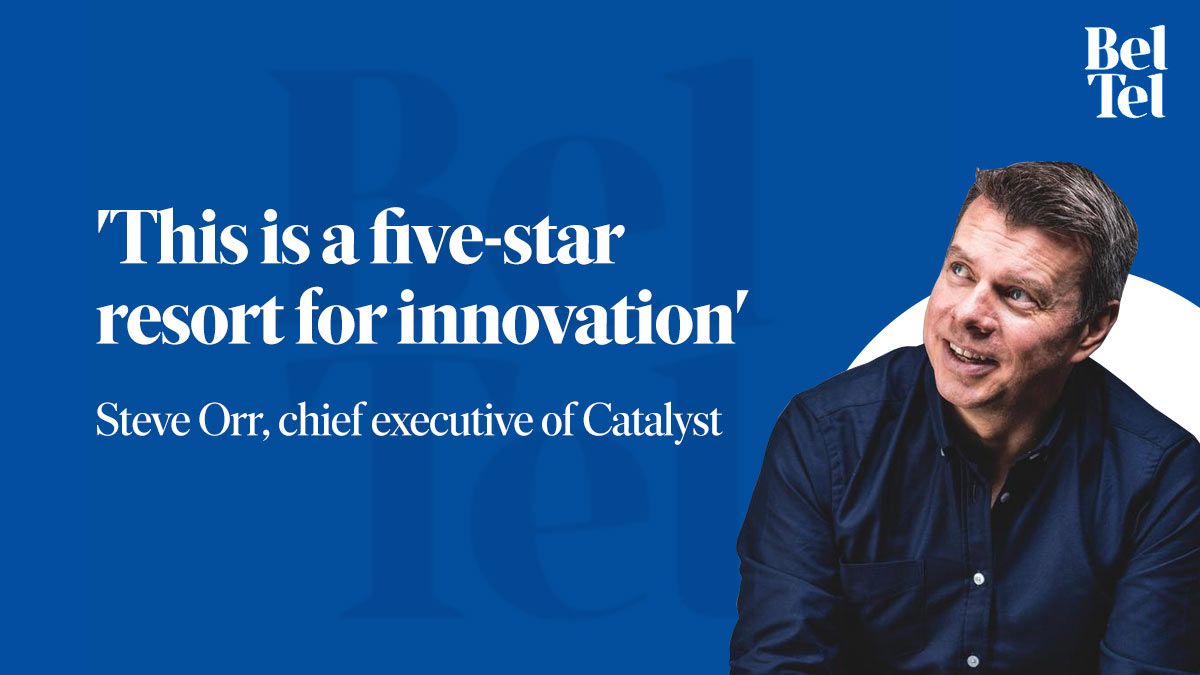 Steve Orr of Catalyst speaks to John Breslin about the journey to becoming the tech heartland of NI.
Steve Orr, chief executive of Catalyst, says: "It is a five star resort, all in- clusive, for innovation."
In the early days after the signing of the Good Friday Agreement, talk turned to just how Northern Ireland could take advantage of any expected peace dividend, from a business point of view.
One of the ideas was to bring together the best brains in academia with entrepreneurs to develop ideas and create companies at the cutting edge of technology.
Catalyst, formerly the Northern Ireland Science Park, was one of those that emerged.
And today, it operates three sites in Belfast, Londonderry and Ballymena — home to more than 200 companies. It also operates the Catalyst Belfast Fintech Hub at Danske Bank in Belfast city centre.
"I love entrepreneurs," Steve says. "They have to be courageous because the odds are stacked against them and everything is on the line, but they really, really believe.
"The majority will not work out and this is a safe place to fail."
There is a mix of large companies, early and later stage start ups and individuals with ideas, many of whom decamped from firms where they were frustrated by a claimed lack of fresh thinking, Steve says. It is a mix also of types of tech, with cyber-security and life sciences to the fore.
Many of the entrepreneurs are local, others have travelled to make here their home, and there are close links with Queen's University and Ulster University, with academics and even students working with firms at the three parks.
"For the first six or seven years, most of the ideas were early stage, but in the last five years companies started really breaking through, grew to 20,50, 100 employees and attracted big funding," Steve says.
Start ups depend on attracting investment, particularly as they progress and expand. For many of those entrepreneurs and their employees operating within the campuses, in the Titanic Quarter in Belfast, Fort George in Derry and Ecos Park in Ballymena, this is an important time.
While the day-to-day work continues — much of it done remotely — next month will see a flood of potential investors arriving from outside the country for Inbound Investors 2021.
Representatives of an estimated 80-90 venture capital and, though increasingly less so, angel, investors are expected to attend, most of them based inside the M25 belt around London.
While they, and those seeking to attract funding, will enjoy a gala dinner at City Hall, the real business will happen behind closed doors at the Europa Hotel and the Titanic Quarter. They will be talking a funding range of between £750,000 up to £10m.
"It's a real opportunity for companies and a big opportunity to show off Belfast as a lot (of investors) will want to see what else is going on," Steve says, who adds that the numbers expected has sharply increased from the last one in 2019 when 30 landed.
Overall in 2019, £44m in new share capital was invested in tech companies here, with 42% coming from outside the region.
But that number was "smashed" over the last year, Steve says.
Cumulus Neuroscience, formerly BrainWaveBank, has its headquarters in the Titanic Quarter.
It's a perfect example of the coming together of business and academia.
Entrepreneur Ronan Cunningham, a NUI Galway and Massachusetts Institute of Technology graduate who spent many years in San Diego, decided Belfast was the place to be to develop his ideas. He partnered with Brian Murphy, then of Queen's, to found the company in 2015.
"They were very passionate about cognitive health issues, including dementia," Steve says.
The company developed what is described as "fitbit for the brain", technology that uses electroencephalogram (EEG), or the recording of brain activity, to identify early stage dementia. The potential is huge, particularly when it comes to trials for drugs to treat, or even stall or slow the effects, of dementia.
Earlier this year, Cumulus secured a further £6m in financing from the Dementia Discovery Fund (DDF), LifeArc, a medical research charity, and the UK Future Fund.
Cumulus Neuroscience was formed in 2020 by combining BrainWaveBank with additional new technologies to create the single platform.
Catalyst is a non-profit that funnels any extra revenues back into its sites. Its pitch is that "all surplus profits from our property portfolio into nurturing a community-led innovation eco-system that supports over 900 start ups, entrepreneurs and innovators so they can grow, scale and flourish".
And Covid "proved our entrepreneurs are resilient", Steve says. "There was really wide damage done, yet we see how they stood up and many thrived."
Steve himself knows about building businesses from the ground up, in good times and bad.
He experienced the boom and spectacular bust of the dotcom era after moving to California in the late 90s, in San Diego, San Francisco, and back to southern California.
He founded his own company, Kineticom, in 2000. It provided engineers and specialised support to mobile phone networks. It was good timing and the company grew into a multi-million dollar business.
But it was what he saw more broadly in San Diego that really informed his thinking when he decided to step away from the business and return home with his Donegal-born wife in 2007.
San Diego Connect, established in the early 1990s and which supports entrepreneurs with education, mentorship, introductions, and access to capital, operated on a shoe string for the first five or six years, he Orr. "But it just ballooned," Steve says.
On his return, he approached the then Northern Ireland Science Park, which was up-and-running, and had made real progress on developing the real estate.
Using a computer analogy, the "hardware was there, it was about developing the software," Steve says. Others here were already on the same page.
It's all about making the working life of those with ideas and drive a little smoother, developing partnerships, facilitating contacts and mentoring, as well as providing physical space.
This sort of partnership al- lows small companies to gain access to large ones, even multi-nationals, many of whom either want to outsource big tech challenges. Sometimes this about providing services, other times they can be targeted for takeover.
Going forward, it will continue to be about forging partnerships, with Steve citing the innovation arm of the Belfast City Region Deal as a hugely exciting development. Around £350m is earmarked over the next more than a decade.
The local councils along with the two universities will lead, but Catalyst expects to be deeply involved.
"There will be deeper partnerships," Steve says. "It's great working together."