Invent Winners: What Happened Next? – SEE.SENSE
With only a few weeks to go until entries close for INVENT 2021, we look at where some of the competition's previous […]
April 16, 2021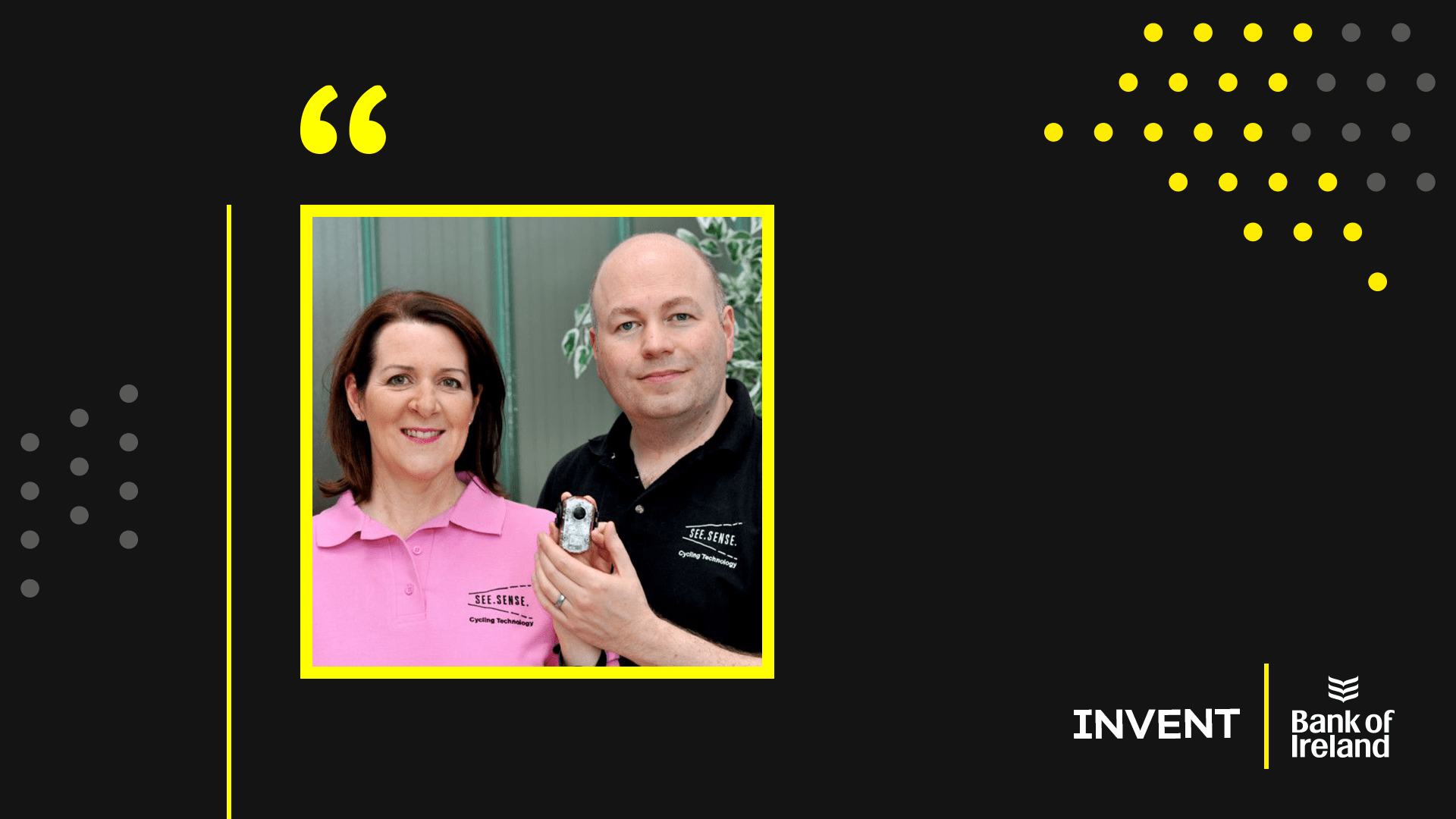 With only a few weeks to go until entries close for INVENT 2021, we look at where some of the competition's previous winners are now and ask them how INVENT helped them at the start of their journey.
INVENT has been a key milestone in the development of a raft of Northern Ireland's most innovative start-up companies over the past decade.
With only two weeks to go until the closing date for applications to INVENT 2021, supported by headline partner Bank of Ireland, we thought it would be interesting for those who are thinking of applying to see where some of the finalists from previous years are now, how they have grown their businesses, entered new markets and in some cases completely changed what they do.
If you find the stories below inspiring and think you have what it takes to join the INVENT alumni, you can find out more here.
---
Innovative bike light company See.Sense were a category winner in 2014.
Their reactive bike lights identify dangerous situations and quickly react to them, making sure cyclists stay safe and seen when they really need to be. The lights flash brighter and faster at riskier moments on the road, with its patented technology using sensor and communications technology, along with proprietary algorithms to monitor their environment up to 800 times per second.
See.Sense has sold more than 100,000 of its products to 70 countries and become a preferred supplier to Cycling Ireland and British Cycling, as well as being stocked by major retailers. It has taken in over £1.3m in investment and grown to a team of 13.
But the biggest change has been going from just having an innovative light that used sensors to adjust to its environment. See.Sense is now using the sensors in its lights to track data which cities are able to use to make the experience of cycling better for citizens, and also to track bikes and help tackle bike theft.
Co-founder Irene McAleese says the silver lining of Covid has been a biking boom and cities around the world making plans to improve their sustainability. It is already working with a range of cities, from Dublin to Denver.
Irene says: "One of the things INVENT encouraged us to do was to think big. It wasn't just about perfecting a pitch, they worked with us over a number of months through workshops and engagement to think about our business. It helped us see we could be more than a bike light company. That was our product and we were proud of it but we had to think how we would stand out. It made us think about the potential of data and what we could do with it.
"We realised the sensor data was really granular – we could see the quality of the road surface, the danger areas for braking and swerving. So we launched the first connected bike light to access the data, aggregate it and share with cities to improve the cycling experience. That's what investors are most interested in and it opened up a lot of discussions."
I'd encourage anyone who is thinking of applying to go for it. Even if you don't win, the process will help your business model and you'll be inspired by meeting other entrepreneurs and mentors. Our mentor actually joined us as the chair of our board. INVENT gives you profile and exposure to people who want to help you. It's tough enough being a start-up, so that's invaluable.

Irene McAleese, Co-Founder & Director, See.Sense
Learn more about Invent 2021 & apply here