Helping to Rebuild Northern Ireland's Hospitality Industry
Three leading local NI technology businesses have come together to support the re-opening of our hospitality industry. Gig Grafter (scheduling, time and […]
June 8, 2020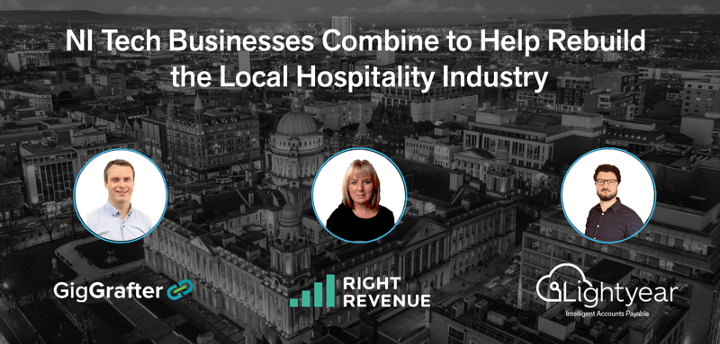 Three leading local NI technology businesses have come together to support the re-opening of our hospitality industry.
Gig Grafter (scheduling, time and attendance software), Right Revenue (revenue management software), and Lightyear (automated accounts payable software), have joined forces to offer their services free of charge for 3 months to support local hotels, bars, restaurants and café's as they reopen after lockdown.
Barry from Gig Grafter said, "All 3 companies have their roots seeded in hospitality and are incredibly passionate about helping the local industry get back on its feet.
"Myself, Adrienne and Chris were discussing what we could best do to help and realised that combined we can solve a lot of problems for hospitality businesses right now.
"Gig Grafter can assist businesses manage staff costs during a phased reopening. As rotas are drafted, the system automatically generates payroll estimates including insurance (NIC and PRSI) and pension (UK Workplace Pension) contributions. With KPIs such as Labour/Sales ratios and Sale Per Hour, businesses can manage the sustainable return to work of furloughed staff."
Adrienne, founder Right Revenue, continued "The 3 founders of their respective businesses have all significant experience in hospitality and we really wanted to do something practical to help the industry that we are all passionate about"
"Right Revenue is a forecasting, data collection and rate recommendation solution, designed specifically for the hospitality industry. This is a time when we all need to rely on data to adjust to the challenges of selling to new segments; new price points; adjusted lead times & a fundamental shift in buying behaviour for some time to come."
Chris, co-founder of Lightyear commented, "Hospitality is the lifeblood of our 3 businesses and we are proud to be able to offer local hotels, bars, restaurants and café's 100% off for their 1st three months subscription with any of the services our companies provide.
"Lightyear is the world's fastest Accounts Payable software saving hospitality teams up to 80% of their time by automating the data-entry, automating the bookkeeping and connecting approvers online.
"As the hospitality industry re-opens for business, it is critical that teams are spending their time focused on customers and not manually entering data or wasting time chasing approvals of supplier invoices. Lightyear is already helping more than 3000 businesses to reduce the invoice approvals process to one click, automatically price checks every product purchase, automatically reconciles all your supplier statements and stores all your documents for 7 years in an online archive."
Finishing off, Barry from Gig Grafter said "It is crucial to Northern Ireland's overall economy that the hospitality industry comes back strong after the lockdown. Gig Grafter, Right Revenue and Lightyear stand ready to help the industry in whatever way we can."
For more information about how these applications can help your business, email sales@giggrafter.com, email ask@rightrevenue.co.uk or email hello@teamlightyear.cloud quoting 'Help rebuild NI Hospo', or visit www.giggrafter.com , www.rightrevenue.co.uk or www.lightyear.cloud