Coronavirus (COVID-19) – Update
UPDATED MARCH 17TH 2020 At Catalyst the health and safety of our members and community is the highest priority. We are actively […]
March 13, 2020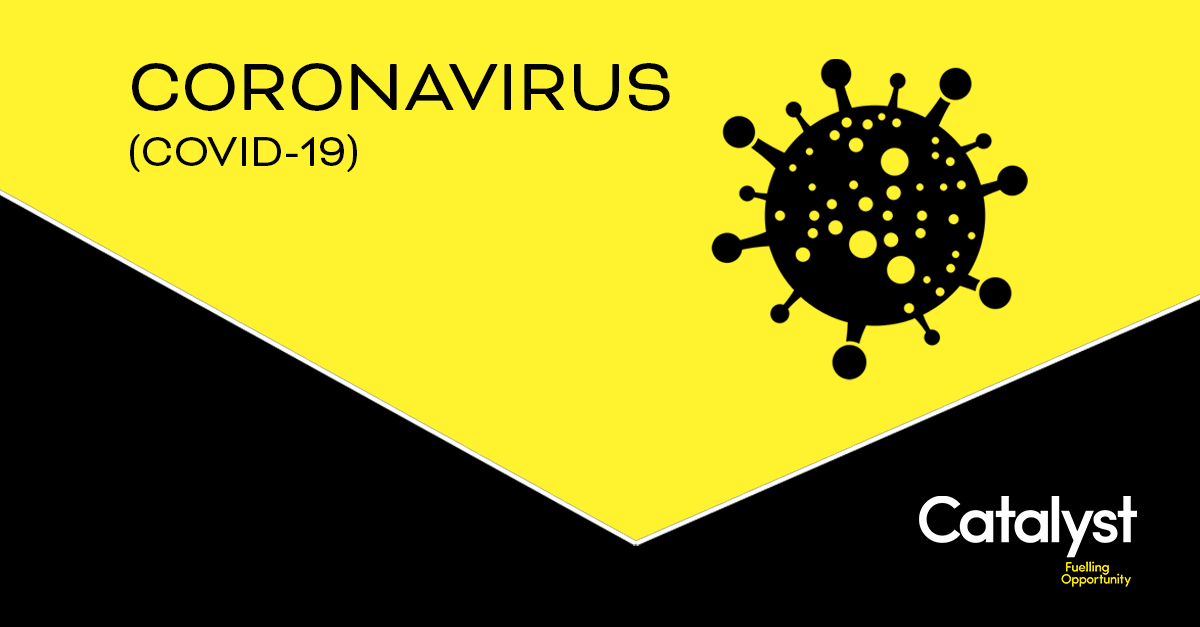 UPDATED MARCH 17TH 2020
At Catalyst the health and safety of our members and community is the highest priority. We are actively monitoring the COVID-19 situation and will be giving continual updates as it evolves.
Currently, we are not aware of any on-campus company employees who have self-isolated due to high-risk factors or who have tested positive. Site leads of member companies have been asked to inform Catalyst, if any member of staff self-isolates due to high-risk factors or tests positive for COVID-19.
Information about COVID-19
For the most up-to-date information about Coronavirus (COVID-19) please visit the Public Health Agency (PHA) and the World Health Organisation (WHO). Here you can find information about the issue as well as finding frequently asked questions.
Public Health Agency– Information and guidance about Coronavirus (COVID-19)
World Health Organisation – Frequently asked questions about Coronavirus (COVID-19)
What are we doing to help mitigate the COVID-19 situation?
Cleaning and Sanitising Protocols
We have enhanced the already robust cleaning techniques of our spaces. In particular, we are paying special attention to communal areas such as our cafe space and meeting rooms. As a precaution, café operator Yellow Door is carrying out extra cleaning of the cafe area.
We are cleaning our facilities frequently with recommended sanitising products and encouraging all employees, visitors and campus members to be vigilant about frequent hand washing.
We have installed new hand sanitiser stations within our campuses within all reception areas and are advising new visitors to sanitise their hands as they sign-in at reception.
Awareness
COVID-19 Advisory posters have been placed on all access areas across our campuses.
We have increased communications with site leads, keeping them up-to-date on the COVID-19 situation, offering assistance and guidance on ways-of-working and reducing risk.
We are taking steps to ensure the welfare of our employees. This includes instructing employees who feel ill to stay home and consult their healthcare providers. All flight travel and external meetings with the Catalyst team have been postponed and will be replaced with virtual solutions.
The Impact on Catalyst meeting rooms.
For external clients, the booking of our event spaces and meeting rooms has been postponed until further notice.
All Catalyst meeting rooms at Titanic Quarter, North West and Catalyst Hub can still be booked for members to use. An enhanced criterion will be applied to ensure rooms are not over-populated and new personal space protocols are followed (Advising a 2-metre distance between people to minimise the potential for infection).
The Impact on Catalyst Programmes and Events.
All Catalyst programmes and events have been postponed until further notice. We are working on rescheduling all activities to a later date and exploring digital event experiences. To keep up-to-date on our events and programmes, please visit our event pages.
Working together to minimise COVID-19 risks
To keep our communities and spaces safe and healthy, please consider following these best practices:
Stay home if you are coughing or have a fever
Regularly and thoroughly wash your hands
Reduce your travel when and where possible
Replace in-person meetings with video
Put 6 feet (2 meters) between you and others at work and in other environments
Avoid shaking hands
And again: wash your hands especially after touching common surfaces.
In this time of heightened awareness, we do thank you for your patience and consideration. This is an unprecedented global situation and we are reacting and adapting in real-time to ensure the health and safety of everyone whilst trying to minimise the impact on the day-to-day experiences on campus. We're in this together and should you have any questions or recommendations, please don't hesitate to get in touch with us.