Space is big! And so are the opportunities for NI in space
The latest #4IRC event in Belfast focused on Space. Host Emer Maguire set the scene with some facts that Invest NI put […]
June 4, 2019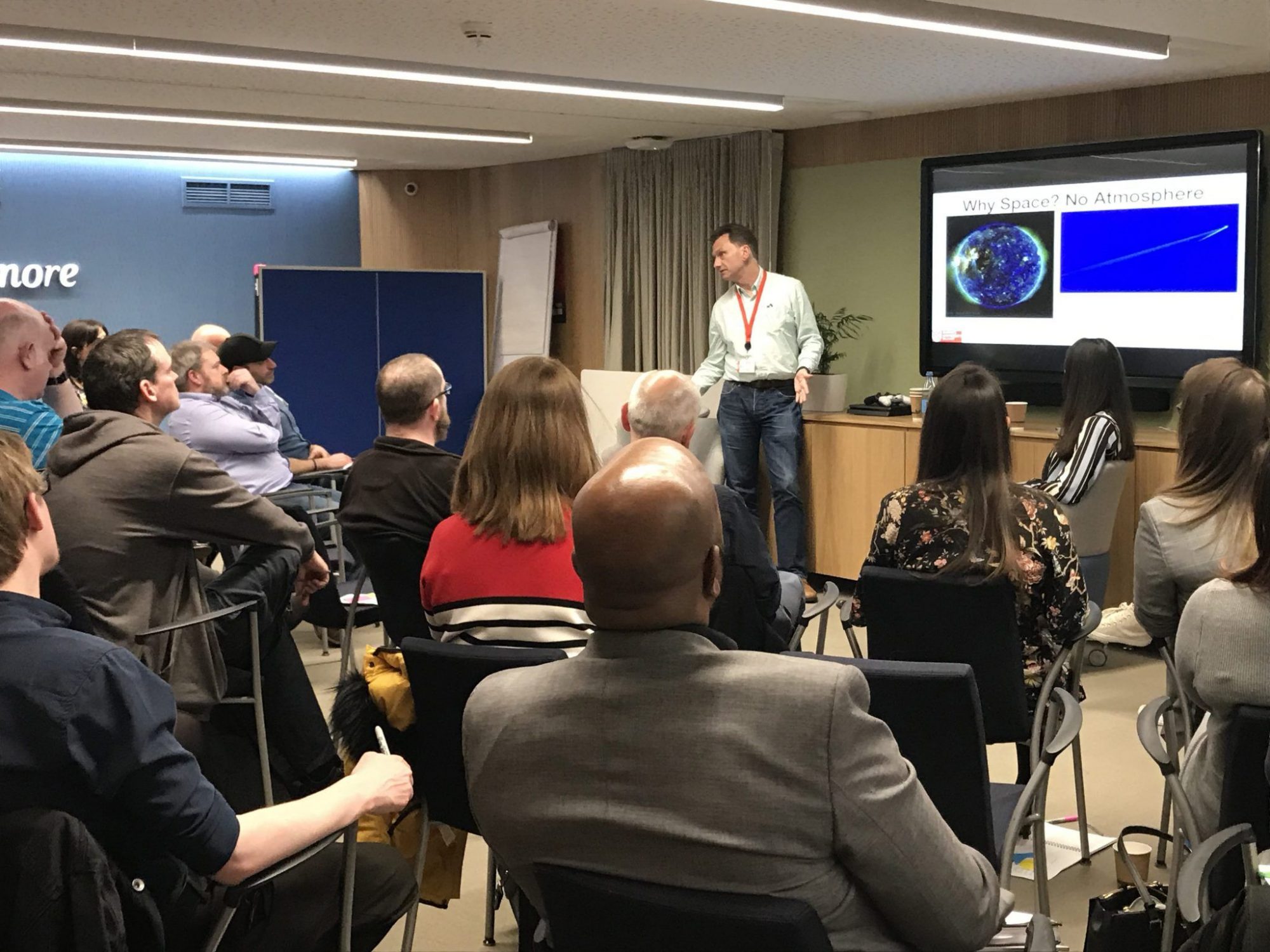 The latest #4IRC event in Belfast focused on Space. Host Emer Maguire set the scene with some facts that Invest NI put together some about Northern Ireland's space sector:
The Armagh Planetarium was the first to show moving images by projecting videos onto a dome
13 NASA patents have been done with Ulster University
There are 65 papers between Ulster University and NASA
The Davagh Dark Sky Observatory will be NI's latest space-related tourist site – set to open in 2020
***
SPEAKER: Fergus Wallace – CEO and Founder of Performance Active
Fergus shared slides he recently gave at the European Space Agency (ESA) conference in Glasgow, about how he's utilising space assets in his digital sports performance tools.
"I want to give some insight into the local companies that are making the most out of space, by highlight some of our projects.
"We build mobile apps and digital platforms – if not for space assets we wouldn't be able to build them.
Project 1
"We built the technology for the NI Open. It was about how technology could engage the audience. Using satellites, and geospatial data, we enabled 'Roving Reporters' to move around the golf course and take pictures as they walked around. Photographs could be tagged on a map to show where they'd been taken.
Project 2
"We worked with Formula 1 Mexico to build a Fanzactive app. The app enables people to take photos around event and put them on a portal with geospatial information – resulting in a map of the whole track and surrounding lands.
"Crime is a big problem in Mexico on the race track. We also used RAPPS-asset tracking to track pieces of equipment around the Formula 1 track – alarms would go off if assets were moved out of their appropriate position.
Project 3
"Space assets can be used for predictive analysis – using stats and AI to create 'What If?' scenarios. This can be combined with geospatial data to make safety become predictable.
"For example, law enforcement can create heat maps and use pattern analysis to show where crime happens."
Q: This concept of "new space" is less regulated, and decentralised, as commercial actors come in and undertake work that was always the world of NASA and ESA. What does that mean for usage of space assets by small companies?
Fergus responded: "It's ultimately a good thing. There will be more competition as more actors own space assets. It still needs to be regulated, but pricing will come down."
***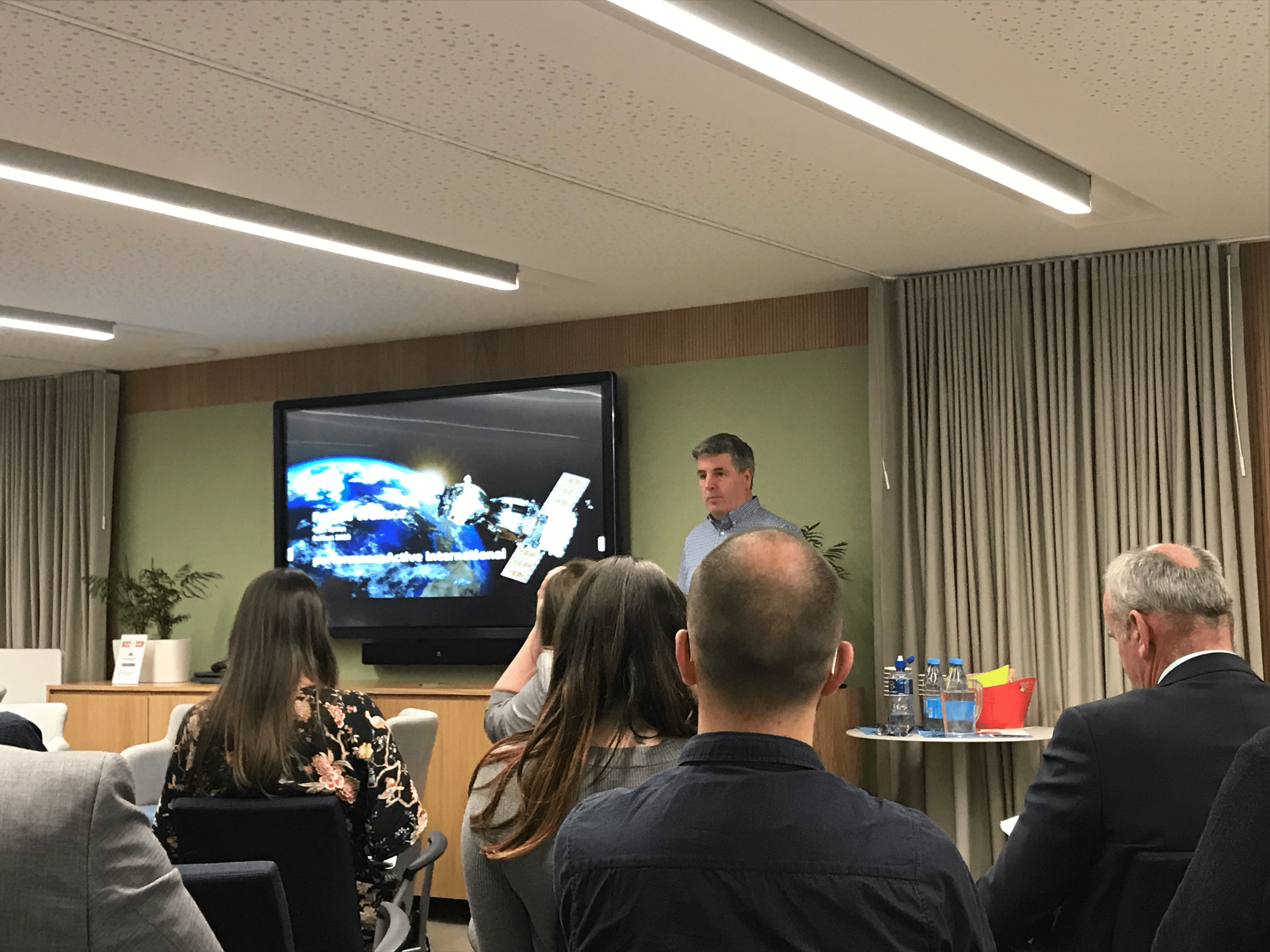 PANEL ONE
Dr Denver Humphrey, Head of R&D, Arralis
Leslie Orr, Director, ADS NI
The panel began with quick talks from both Denver and Leslie about their work.
SPEAKER: Denver Humphrey
"Arralis is one of a group of companies that deals with aerospace, security and defence. The aim is to contribute £1.3bn to the NI economy from space activities.
"Arralis is accelerating the worldwide transition to millimetre wave technology. At these frequencies, radars can produce 10x sharper resolution images than the landing radar used by Apollo missions to the Moon, and significantly higher communication data rates can be achieved.
"This is a challenge, because at the high frequencies of W-Band, we have to assemble our components beside each other at distances equivalent to 11 human hair breadths apart!
"The frequencies we work at, are therefore at the cutting edge of the component availability in the frequency domain.
"Six years ago we won our first contract with ESA to design W-Band components and have since won space contracts at K/Ka-Band frequencies.
"We're now developing E-Band automotive radar systems because we were approached by a car manufacturer to use some of the technologies we had developed for space in future car radars for autonomous driving.
"Today we are producing components so small they are ideal for integration in the new smaller satellites or 'cubesats', the smallest of which is 10cm X 10cm X 10cm in size.
"Space is Big! A 1mm aperture from Hubble took a picture of 15,000 galaxies. We're also designing an antenna for deep space for use at a distance of 70 million kilometres away from Earth. (The moon is 380 thousand kilometres away; Mars is on average 225 million kilometres away.)
"Arralis' concept is 'Connected Everything'. So I like to imagine our technology coming together– for example after a natural disaster our high speed satellite communications and accurate radars can help helicopters and cars can communicate and get people on the ground where help is needed safely and quickly."
***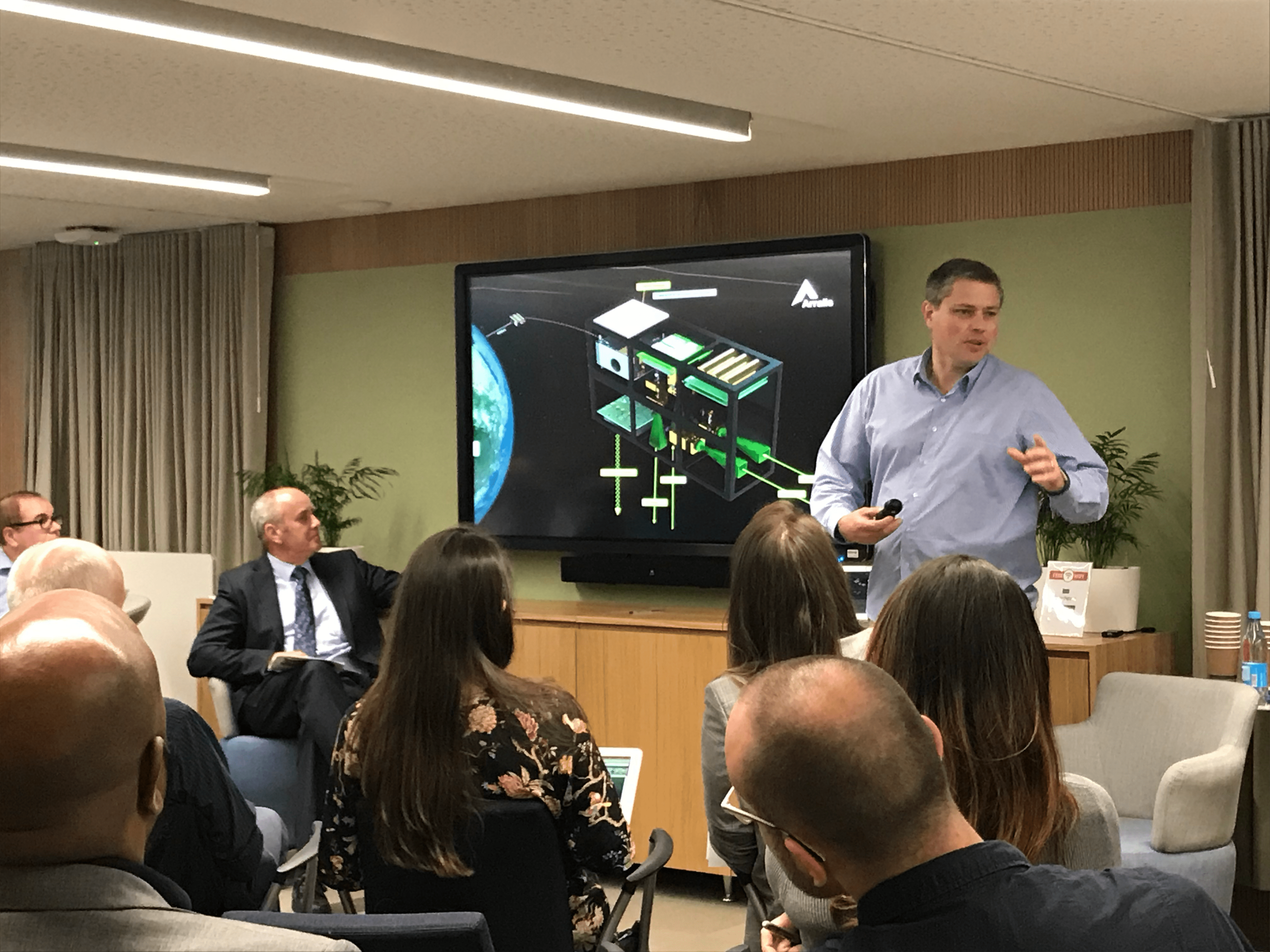 SPEAKER: Leslie Orr, Director, ADS NI
"ADS is the national trade body for aerospace, defence, security and space.
"In NI, 120 companies are members.
"The UK Space Agency has forecast that the space industry will be worth £400bn by 2030.
"The UK has publicly stated that it wants to account for 10% of that market, at £40bn.
"What target should NI have?
"If we get half of a per cent, that would be worth £2bn – and that's bigger than the aerospace industry in NI right now.
What's in that?
Everything – applications using space data – the downstream data from space.
"Software, apps and cyber security – NI is well positioned for all of this.
"Then there's the upstream –sending up the hardware, e.g. satellites, and the launching technology that gets them to space.
"NI has had more than 100 years of aerospace companies – we've got Thales who is shipping its first rocket positioning technology.
"There's NI's Space Special Interest Group – the group gets together quarterly to discuss how local companies can be a part of this. We're all about connecting SMEs or individuals who are going to win the major contracts.
"Finally I'd like to note that Reinventing Space Conference, on 4thNovember this year, is coming to Belfast."
PANEL Q&A
Q: New Space – what are the opportunities?
Denver – "As one example, for low Earth orbit (LEO) closest to us, the safety requirements are no more than something that goes into a mobile phone – so that is good for us."
Leslie – "The cost of launching things is coming way down. More companies can get involved – including SMEs."
Q: Does the advancement of technology outpace regulation?
Denver – "There are specific regulations because you don't want your communication to bring down a plane – that is valid and you understand that – I don't see any new regulations on the horizon that would be prohibitive."
Q: Is SpaceX going to disrupt the market?
Leslie – "I think they will be disruptive. But closer to home, NI has a space strategy, if you want a copy please get in touch with me."
Q: What predictions would you make about what's coming out next?
Denver – "I'd say connectivity. That's the next big driver. LEO satellites are closer, so sending signals up there, processing data and sending a signal back down is quicker. We don't want driverless cars to cross a border and stop due to a latency problem. That problem is going to be solved with new space technology."
Q: To what extent is space debris a limiting factor?
Denver – "It is a big issue. High frequency chip sets allow you to track smaller objects in space, so that was one of the reasons we won the contract with ESA."
Comment from Prof Fitzsimmons:
"ESA is starting a new programme that will increase 10x the activity in dealing with space debris."
***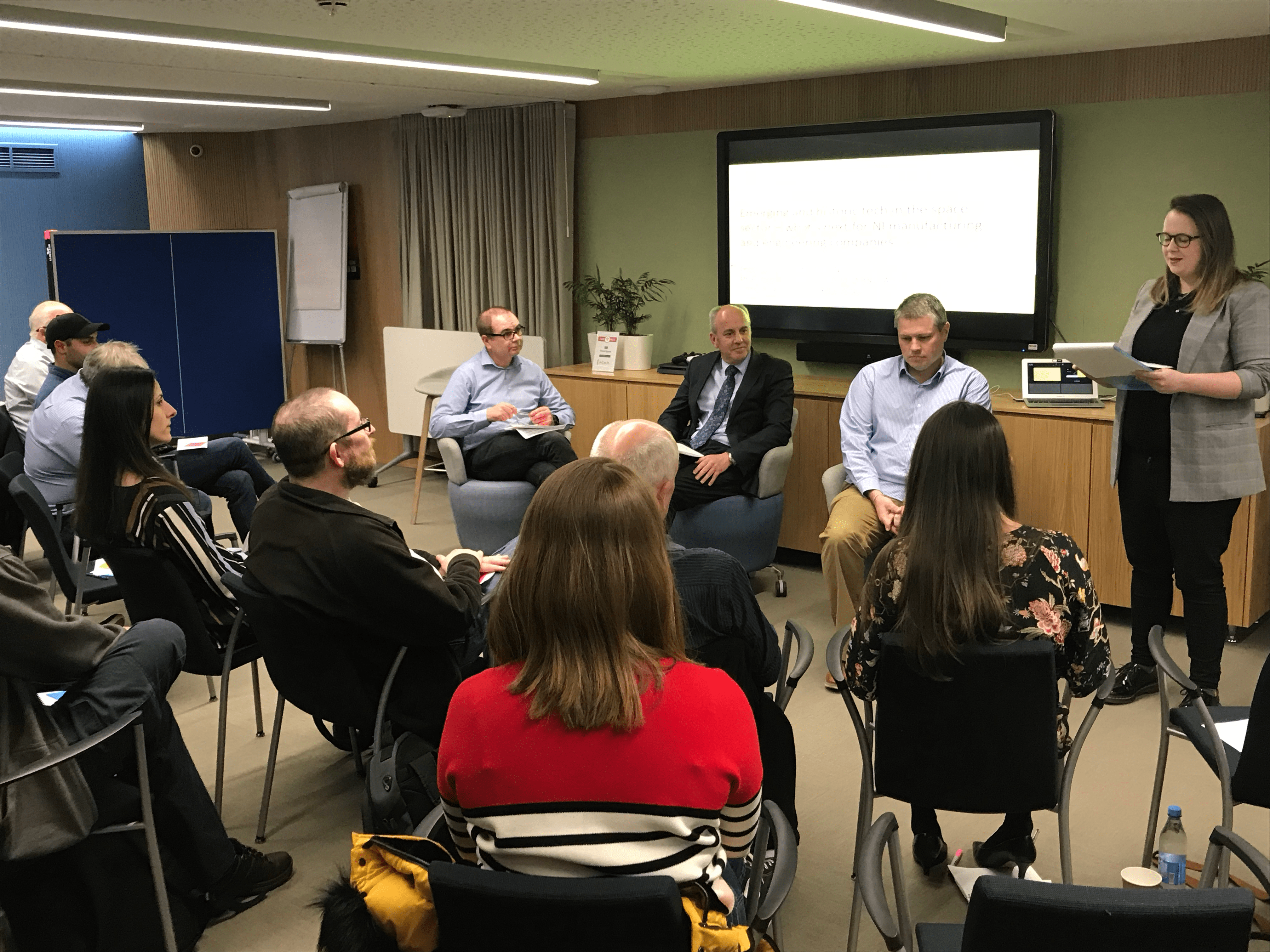 PANEL TWO
Professor Alan Fitzsimmons, Astrophysics Research Centre, Queen's University Belfast
Tara Walsh, MakeMatic
Q: Give us an idea of how we approach space in the research and scientific community?
Alan – "Investment and research historically came from scientific requirements. Equipment is always improving, e.g., the 1.4 bn pixel camera in Maui – from the PanStar telescope – is the biggest camera in the world."
"When a telescope is 1.5 million kilometres away in deep space, we can't fix it."
Q: Why put them in space then?
Alan – "Because there's no atmosphere. If we put our research equipment above the atmosphere – you can use any wavelength that you like for ex sub-millimetre wavelengths – that's what enabled us to observe Asteroid Gault from the Hubble Space telescope.
"Because we're not blurred by the earth's atmosphere – we could see that something happened to the asteroid, it was shooting out a stream of debris.
"The next reason is you can make in-situ measurements. We were able to do this at the Copernicus Crater – Cimmeria, Mars.
"The final reason is because of practical applications.
"Asteroid mining – there are a number of startups interested in grabbing a relatively large amount of precious elements and rare minerals. Water is one of them, it's an incredibly good resource in space – give it 20 years and this opportunity may well be there.
"Also there's the fact that smaller asteroids could hit us – hence the asteroid defection missions DART/NASA and HERA/ESA. We're sending up a probe to hit the asteroid's moon and then another to test and see what happened."
Q: Tara, how do we develop a talent pipeline to get young people educated in space opportunities?
Tara – "Careers education is super important – from a very early age – all teachers need to have skills in this.
"It's also about industry communicating with teachers – not happening enough.
"Finally we need to put the A in STEM and start talking STEAM – using art and drama to teach subjects like maths and technology. Art-infused STEM education is better for kids' development – that's something we know."
"Finally we need to start telling local stories, to inspire students – so they know someone from NI is doing this."
Q: How do you get young people interested in going into these areas?
Alan – "Inspiration – inspiring pupils from a young age from primary school upwards. Just knowing there are these opportunities. The question always is, what can I do with a degree in this field? ESA doesn't sell itself well. That's an amazing resource – as is the Armagh Planetarium."
Tara – "Constantly getting information to people."
Q: What are the main ethical challenges in space research?
Alan – "Compared to other scientific areas, we have a much easier time of it with ethics.
"Commercial sensitivity and commercial ownership of data – most of the data has been open and free because taxpayers have paid for it – but in the growing commercialisation of space – if we start mining asteroids who owns that asteroid? That's the big frontier of ethics in space."
Tara – "I think there's a big issue of space debris and as we go after these lofty goals, the question is: Will there be more space debris?"
Q: Are there jurisdictional boundaries in space?
Alan – "It's written into UN law very clearly that no one can own another celestial body – you cannot go to an asteroid and own it."
"We got a space lawyer from NY who said, you can't own it, but you can perform work on a bit of it so that bit can be yours.
"This is relevant because China and the US might get into another moon space race."
***