The INVENT 2023 Semi-Finalists
After a rigorous qualifying round, where participants pitched their innovative ideas to a panel of judges, 20 ambitious entrepreneurs have moved on […]
May 4, 2023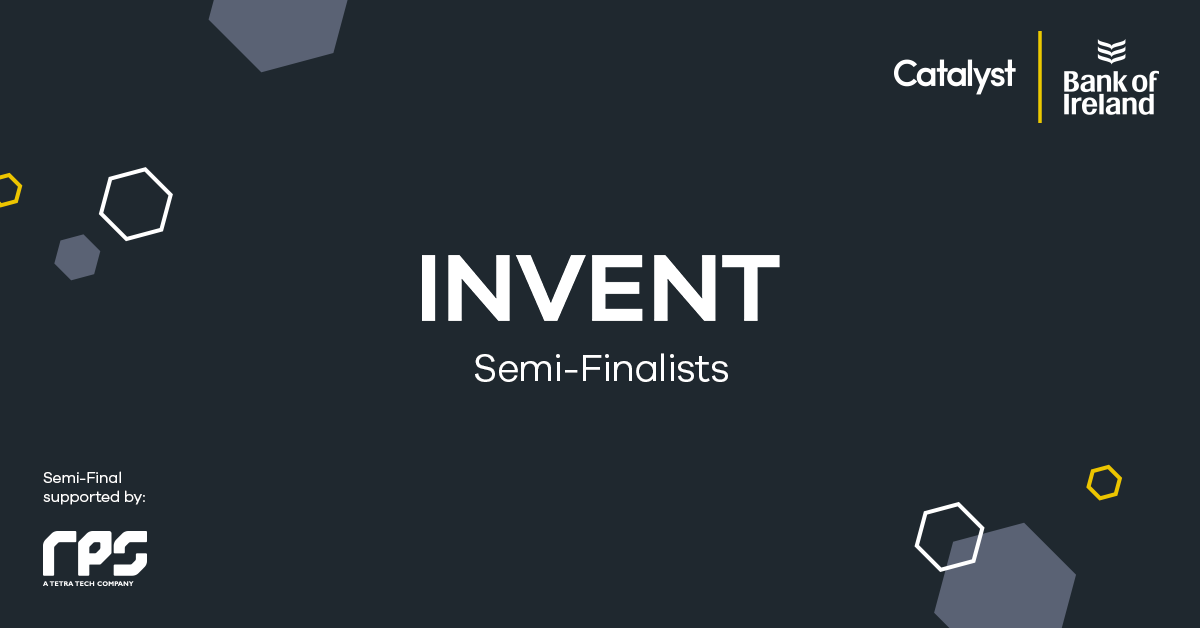 After a rigorous qualifying round, where participants pitched their innovative ideas to a panel of judges, 20 ambitious entrepreneurs have moved on to the semi-finals of INVENT 2023.
Organised by Catalyst with headline partner Bank of Ireland, INVENT celebrates our most exciting entrepreneurs, giving them an international platform and support to make the greatest impact.
The 2023 semi-finalists are:
Health and Wellbeing
AXONNR: Their technology combines the latest developments of AI and Robotics to advance prosthetics and deliver new functionality for upper-limb amputees.
Little Sunflower: An early intervention emotional wellbeing solution to the growing mental health crisis in children. Using animated, interactive, digital resources and plush toys, it gently leads children on uplifting emotional journeys towards resilience and self-esteem.
Insurin: A mobile app powered by AI and data helping people newly diagnosed with type one diabetes to better understand their body and to learn how to look after it, with confidence and without fear. Ensuring confidence in insulin dependency.
Sonamove: We help sit-stand desk users optimise the amount of time they spend sitting and standing each day so they can live longer, happier and healthier lives.
Greentech
Wake and Make – Energy: We are designing and making modular battery energy storage solutions that are designed and built as a bespoke solution, offering more flexibility and better affordability for hybrid energy systems.
Wizso: 0.3% of Earth's water is freshwater, yet we use 7.5 litres to flush after peeing. Drop a Wizso into the toilet after peeing, it masks any colour and odour, you don't flush; saving water, carbon and money. Wizso appeals to consumers and enterprises looking to improve their sustainability.
Urban Roots: The "Smartest, Sustainable Eatery in town" by providing an intelligent fridge for workplaces that ensures a healthy and nutritious sufficient food source 24/7, eliminates que systems, is plastic free and reduces food waste.
GoPlugable: A mission to create the world's largest Electric Vehicle charging network by connecting home chargers to a peer-to-peer network where EV owners can share access to their home chargers with other users using our community driven app.
Product
Cubefun: A new innovative soft plush cube designed to get kids moving more. It comes in a range of themes including Jungle, Minibeast, Farm and exercise. Played like a large dice, the kids throw it and then copy the action displayed; waddle like a duck, jump like a monkey.
CycleAid: A cycling safety device that uses AI to detect cars behind the cyclist. A sensor attaches to the bike and sends a signal to a haptic feedback harness worn on the cyclist's shoulders, which vibrates to indicate danger without visual distraction.
Instyl: Instyl Cocktailbags are cocktail-flavoured infusion bags which can be added to a glass of your preferred spirit and mixer (such as vodka and lemonade, gin and tonic) to give the taste of a specific cocktail! Our three launch flavours are mojito, margarita and pina colada.
WearMatter: A purpose-driven adaptive clothing brand that is committed to empowering individuals through inclusive, accessible, universally designed fashion. Our clothing is designed for a reason, for individuals with disabilities and without.
Business Software
Zappy Vouchers: An affordable software solution that allows any business to sell Gift Vouchers online in under 3 minutes, with or without a website. Zappy Vouchers is live, and its mission is to enable SME's to access the multibillion pound digital and corporate gift voucher markets.
SEQO: A platform for managing continuity in the TV and Film Industry.
Track: Ensures a secure and organised digital environment for your business, streamlining and automating your existing platform, from Google Workspaces to Microsoft 365 and more.
Simil: A hybrid API and Artificial Intelligence software that guides designers to design accurately, and allows them to centralise and organise data from numerous platforms so that they can design more efficiently.
Consumer Software
Keepsake: A product that helps people to manage their physical collections digitally. No matter what different items you collect, you are able to manage, organise and share items from your physical collections with like-minded members of your community.
Learning Me: Our pupil wellbeing web-app, Understanding Me, merges best practices in health, pedagogy and educational technology to help the child self-regulate. We're integrating three complimentary pathways to support early intervention, pastoral support and family relationships. Through this, we champion and celebrate the power of school!
Feminatech: M-power is a menopause support app that can be paired with trackers like Apple Watch or Fitbit, to record heart rate, temperature and sleep. On the app the user can track other symptoms and lifestyle changes. Our algorithm will use the data to find patterns, make predictions and suggest changes.
VidGaze: A video streaming platform that combines all the other platforms into one app! Watch all your content in place with no hassle, and get the best monetisation rate for your content by having multiple sources for your videos on the VidGaze app.
Congratulations to all the semi-finalists! The next stage will require them to pitch once more to earn a highly sought-after spot in the INVENT 2023 finals. Winners will be recognized at the INVENT Awards 2023 at the ICC Belfast, which will honour the most outstanding innovations across different categories, including the overall winner and elevator pitch winner.