Catalyst strengthens green credentials with the installation of 30 EV charging points
£400k investment will further reduce carbon footprint Catalyst has installed 30 electric vehicle (EV) charging points across its sites in Belfast and […]
March 9, 2023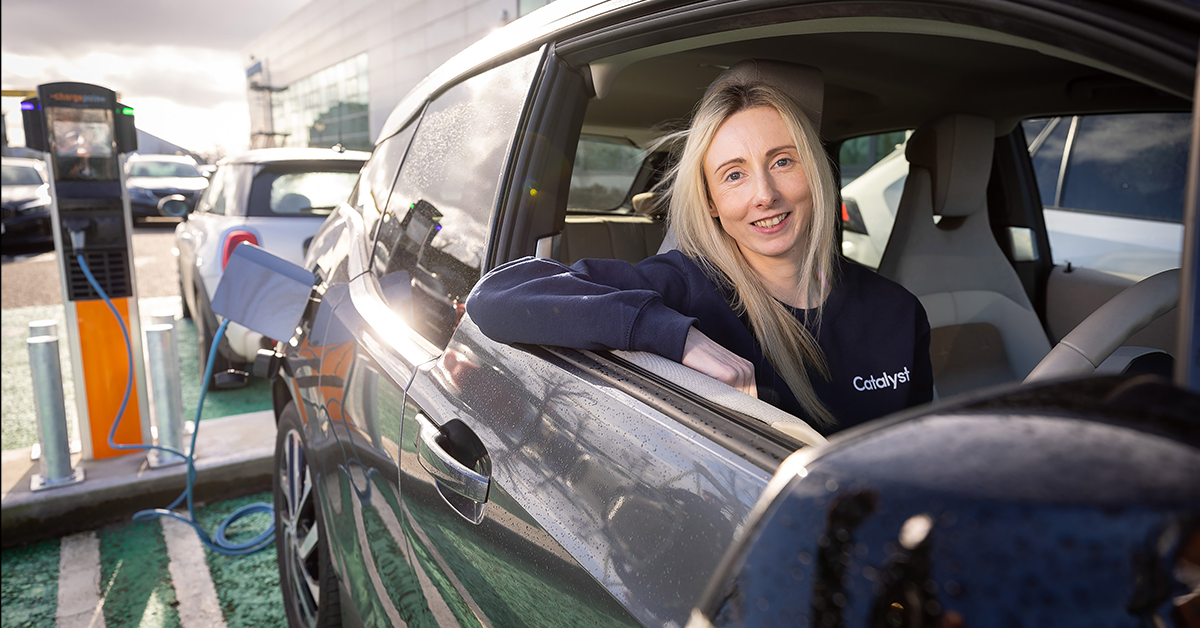 £400k investment will further reduce carbon footprint
Catalyst has installed 30 electric vehicle (EV) charging points across its sites in Belfast and Derry moving further towards its goal of achieving Carbon Net Zero by 2040.
The company has invested over £400k into this element of the project, which also includes the installation of solar panels (PV) at the Innovation Centre in Belfast. This will allow Catalyst to reduce its purchase of external energy, which emits more carbon, by 10%. 
The ChargePoint equipment has been installed, with 24 points located in Catalyst's Belfast campus and 6 in the Derry-Londonderry site. This will almost double the amount of EV charging points available in Belfast which currently sits at 36.
In 2021, Catalyst committed to further reduce its carbon footprint in order to achieve a Carbon Net Zero rating by 2040 and ensure the company does its bit for the environment. To date, it has achieved a carbon output that is three times lower (8.89kg CO2/m2) than the European Environment Agency's Benchmark (27.592kg CO2 /m2).
Mervyn Watley, Director of Property & Community at Catalyst said:
"At Catalyst, we are committed to driving change to address environmental challenges. Climate change is an issue that we all need to take seriously and so we will do everything we can to achieve Net Zero.
"The installation of the EV car charging points on our sites is a great advancement in our journey to Net Zero. We understand that with the low number of EV charging points currently in Belfast, some people may have been reluctant to make the move to electric vehicles.  We hope that by making electric car charging more accessible to the community, we will encourage people to make the switch to a cleaner alternative to gas or diesel vehicles.
"We are also excited to bring solar energy to the site in Belfast in the coming months. Solar power is a green, renewable source of energy and does not release any carbon dioxide into the environment, helping to further reduce our carbon footprint. We all have a part to play in building a more sustainable future and we are committed to making a difference."
Putting sustainability at the forefront of its business strategy, Catalyst has also reduced its electricity output by using LED lighting installations which use less greenhouse gas than regular bulbs. The company has also put building management system controls on air-conditioning to ensure they are only used when needed.
Catalyst will continue to revise and align its sustainability strategy to ensure they reach NetZero by 2040.