Time for Open Innovation
After unveiling a new strategy for the next five years, Catalyst has committed to a series of new targets designed to support Innovation-Driven Enterprises […]
July 5, 2022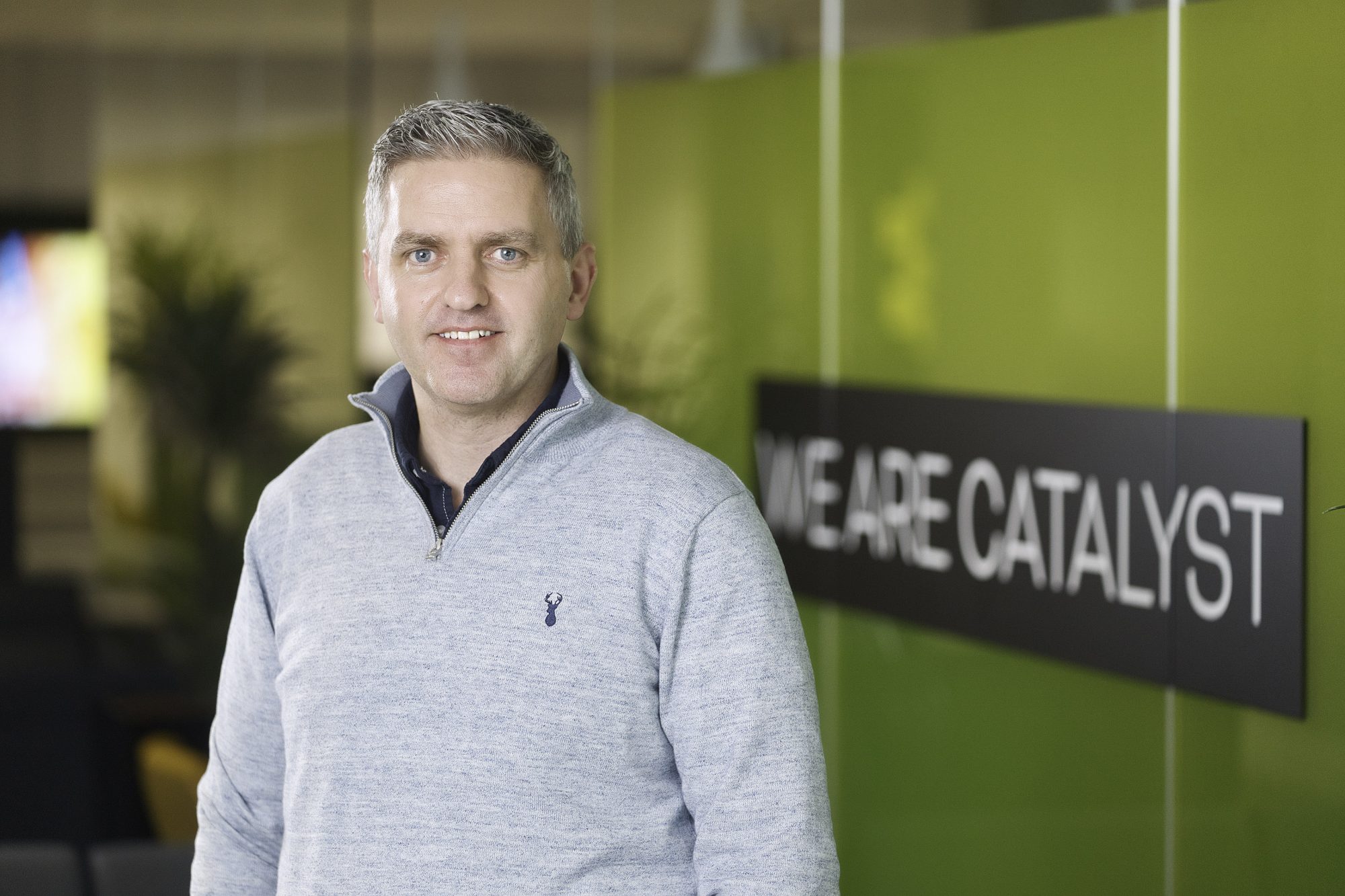 After unveiling a new strategy for the next five years, Catalyst has committed to a series of new targets designed to support Innovation-Driven Enterprises and increase opportunities for more people in our society to benefit from access to innovation-led sectors of the economy. As Catalyst embarks on a new strategy it has seen the creation of a team dedicated to open innovation, led by Dr Adrian Johnston, Director of Strategic Business Development. Adrian has 20 years of industrial experience in advanced semiconductor manufacturing with a focus on collaborative research, technology innovation, automation and AI.
In his new role, Adrian will engage with existing and new Catalyst partners to help drive cluster-focused innovation. Northern Ireland currently has the lowest level of private sector R&D expenditure of all UK regions and Adrian believes more needs to be done to help local companies access UK government and public sector funding to accelerate innovation activity and growth.
As we see the closure of the North-West Centre for Advanced Manufacturing (NWCAM), using successes, recommendations and lessons learned, the legacy of NWCAM is the foundation for Catalyst Open Innovation projects. NWCAM created an Advanced Manufacturing virtual cluster focused on bringing new technologies to products and processes within the Life and Health Sciences sector. The model of industry led research, cross-border collaboration and strategic partnerships between academia and industry have embedded the projects within open innovation.
We met with Director of Strategic Business Development, Dr Adrian Johnston to hear more about open innovation, here's what he had to say.
Hi Adrian, can you tell us about your new role?
I am really excited to be joining the Catalyst team and developing new ways of supporting our partners to Innovate. Essentially, we want to make it easy for the companies we work with to innovate, to build new collaborative partnerships and importantly, to embed research and innovation practices within their businesses. This has already been achieved with the very successful NWCAM projects where, with academic partners, we have enabled companies to develop new innovative manufacturing processes, pivot to new business sectors and develop innovative products with global application. I want to build on that success by developing cross sectoral innovation between Health and Life Sciences, Net Zero, Advanced Manufacturing and Regulatory Technology.
What is open innovation?
At its core, Open Innovation is about developing partnerships and pathways to share knowledge, expertise and resources across multiple organisations that stimulates disruptive ideas. Ultimately, we want more and more businesses in NI to undertake research, development and innovation activity. However, we are also aware that committing to Research and Development requires an awareness of opportunity, access to partnerships, support for availing of challenge funds and the people available to deliver on a project.
What role will Catalyst play in all this?
The Catalyst Open Innovation team will have a set of support mechanisms to support the delivery of our partners Research and innovation need. This could be developing regional or national project consortium or ideating on innovation strategy to develop a project proposal for national funding. The most important thing for Catalyst is to be responsive to our partners need and to develop bespoke solutions for their innovation projects. Catalyst has recently developed its strategy for the next phase of the organisation and Open Innovation is a strategic pillar within its work. This will be supported by an Open Innovation team making support accessible, providing resources and making the innovation journey as easy and efficient as possible.
What does the next 6 months look like for the open innovation team?
The next 6 months are really busy for the Open Innovation team. We are currently at the end of the North West CAM project which has been running for 5 years but this has been really successful. We want to make sure we capture the learnings from this program and evolve it further to support more organisations innovate and engage in key City Deal investments at our Belfast and Derry/Londonderry Campus. We really want to engage across our partner network too and fully understand their technology and innovation need. We want to hear from partners and our team is ready to engage if a company has an idea, question or ask of our Innovation service.
Why now?
We have a truly once in a generation opportunity in NI with the significant City Deal investments in across the Belfast Region and the Derry City and Strabane District Council Regions. This is approximately £1.25bn of investment from the UK Government, NI Executive and private sector investment. We know however that NI has one of the lowest rates of private sector R&D investment in the whole of the UK so it is imperative that companies start their Innovation journey now to prepare for the significant opportunities coming along in the future. NetZero and Green Growth Technologies, Health Innovation, Smart Cities and disruption to Financial Services are all enablers to innovation. There are significant market opportunities and a real possibility for NI to position itself as a global leader in key market segments. We want to ensure our partners have the best chance of taking advantage of these opportunities.