The Future of Work in a Post-COVID World: Mini-Conference Insights
Guest author: Ben Bland On 10th November, in partnership with Mid and East Antrim Borough Council, we hosted a mini-conference to explore […]
November 30, 2021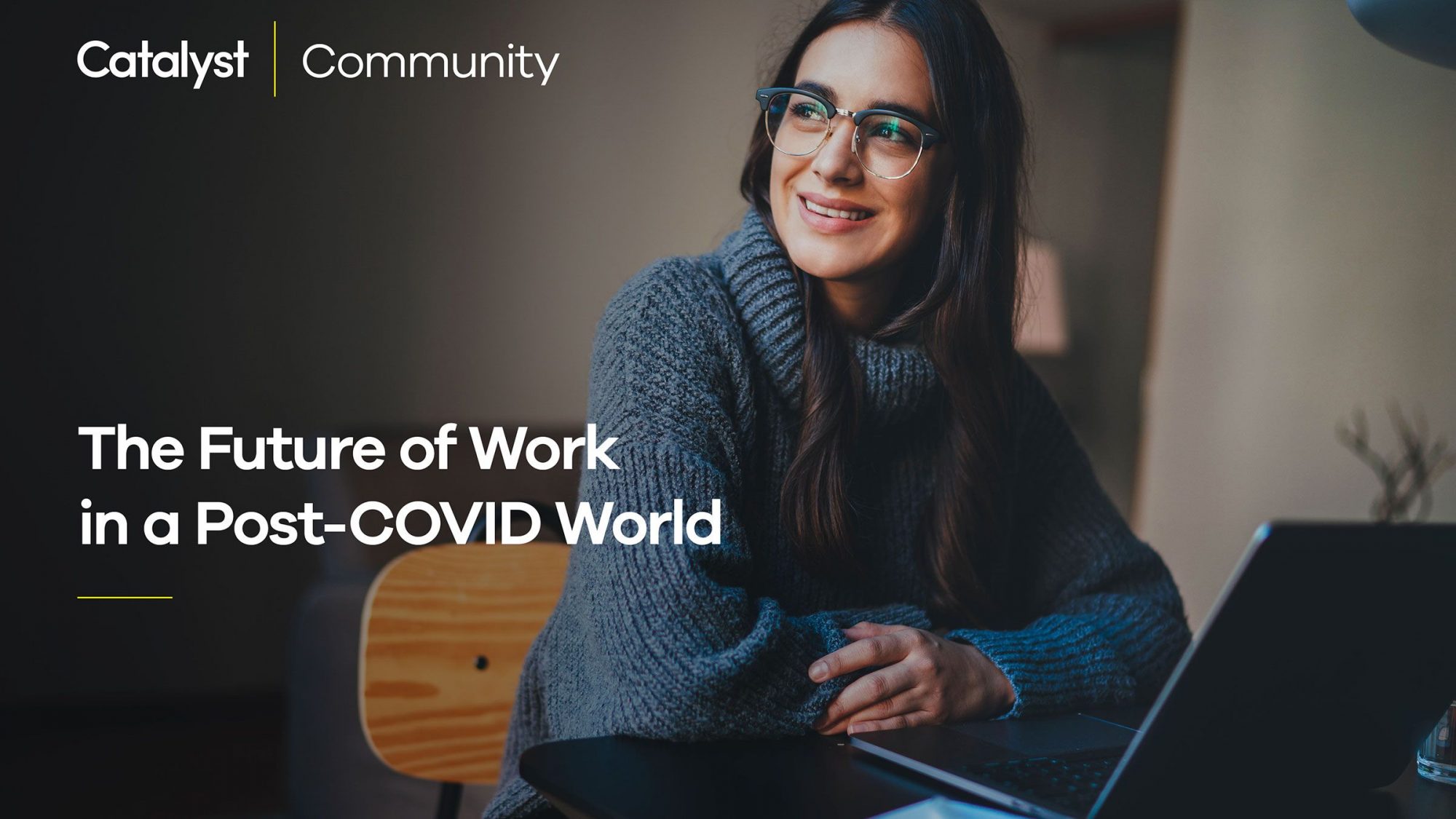 Guest author: Ben Bland
On 10th November, in partnership with Mid and East Antrim Borough Council, we hosted a mini-conference to explore the business changes and opportunities brought on by the pandemic, as well as wider trends in the ways we work.
You can watch the event (90 min) here.
View the slide deck, with ideas, people, links, and contact details here.
This event was hosted by Ben Bland, who has shared some insights below on the ideas and discussions that emerged from the mini-conference.
The future is already here. It slipped in the back door last spring, while we were staring at our screens, watching the world lock down. A few game-changing trends were already seeping through society and industry at the time, but the onset of the pandemic suddenly accelerated them – or in some cases made them instantly universal.
On 10th November, I had the pleasure of re-joining my friends at Catalyst to host a one-off event on a subject that has fuelled my passion for many years: better ways of working. For the first half-hour, I presented the tools and processes of business pioneers that I uncovered when building Neoco, a free platform for progressive operations. Then we had an hour-long discussion with an expert panel, attempting to map out this elusive "future of work" that seems to have landed on our doorstep recently.
My interpretation of the panel discussion is broadly split into two worlds: the future of companies, and the future of careers. This split was forced opened by the sudden switch to remote working, furlough, and the dramatic rethinking of our personal priorities as we tried to navigate life at home during a global crisis. This flattened the playing field, with the dissolution of many past restrictions of geography (e.g. commuting, urban living costs) and physical resourcing (e.g. providing office facilities, accessibility for all abilities). Now companies can more or less recruit anyone from anywhere: the best person for the job, with parity of pay across the staff population. But it equally means that we, the workers, now have access to global markets and can apply ourselves to the right projects and employers at the right time.
You've probably heard of the Great Resignation; maybe we can also suggest that we're experiencing a Great Flattening, with companies spreading out to become more like networks of peer communities, and individual careers spreading out to be more like a portfolio of roles. This change is showing signs of greatly increased equality and access to opportunity, with a mirror side of increased competition, isolation and pace of change. So, what can we do about it?
The panel highlighted the need for both businesses and workers to develop a high degree of flexibility and experimentation, to become more agile and antifragile. More than ever, employers need to bring their teams on the journey with them, clarifying and aligning the company to its vision and purpose, communicating better, and selling their story internally as much as externally. At the same time, individuals should rethink how they present and deliver their skills, as the old status quo of one-job-for-life evolves past one-employer-at-a-time and starts to look more like the-right-role-for-the-project.
I have mapped out these insights from the panel on a Miro whiteboard but let us know what else the discussion inspires for you. And please tell us if you would like to see similar events in future, addressing key innovation trends.
Many thanks to our panel guests:
Further Reading From our Panellists
Ed Morgan shared some items that he mentioned in the discussion:
Kristel Millar shared some recent articles on the topic of the future of work: