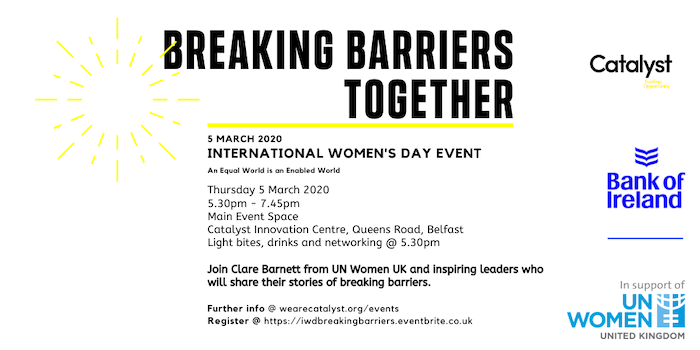 Ahead of International Women's Day Catalyst is hosting an event, supported by Bank of Ireland, at the Innovation Centre in Belfast on the theme of breaking barriers together.
We want to explore the barriers that women and girls experience and create positive actions for people to take forward to break down those barriers.
We are partnering with UN Women UK who are a non-profit network with the aim of removing the social and cultural barriers that prevent women and girls from achieving their potential.
Clare Barnett, Executive Director at UN Women UK, will open the event looking at the theme of economic empowerment and how movements can help break barriers.
Inspiring women leaders from business, technology, academia and sport will also give a seven minute insight to their experiences, followed by a panel discussion. Finally, we will be asking you to think about the actions that you can take to create a more equal world.
The event will start at 5.30pm with light bites, drinks and a chance to network. We hope you can join us!
For more information, please contact karen.hall@wearecatalyst.org.