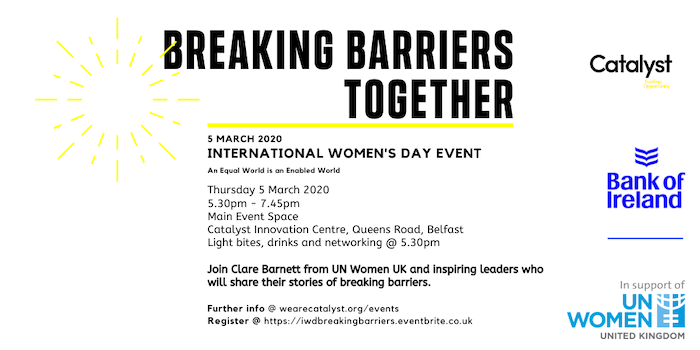 Ahead of International Women's Day Catalyst is hosting an event, supported by Bank of Ireland, at the Innovation Centre in Belfast on the theme of breaking barriers together.
Join Claire Barnett from UN Women UK and inspiring leaders who will share their stories of breaking barriers.
The aim of the event is to engage women and their allies on the theme of International Women's Day. We want to explore the barriers that women and girls experience and create positive actions for people to take forward to break down those barriers.
We are partnering with UN Women UK who are a non-profit network with the aim of removing the social and cultural barriers that prevent women and girls from achieving their potential. Claire Barnett will open the event looking at the theme of economic empowerment and how movements can help break barriers.
Women leaders from business, technology, academia and sport will give a seven minute insight to their experiences, followed by a panel discussion.
Finally, we will be asking you to think about the actions that you can take to create a more equal world.
Speakers include:
Grace Davitt – Grace played international rugby for Ireland for 10 years receiving 56 caps. Grace was involved in three world cups and in France 2014 was part of the team that knocked out the World Champions New Zealand to finish 4th in the world. Grace is an engineer with the Belfast Harbour Commissioners where she maintains ship to shore and mobile harbour cranes.
Carol Rossborough – CEO and Founder of ESTHER a direct giving platform allowing charitable donors to give directly to beneficiaries. Passionate about the empowerment of women she believes strongly that emerging technologies and collaborative ecosystems can contribute significantly to gender equality and solving the problem of systemic poverty worldwide.
Louise Cushnahan – Head of Innovation at Centre for Secure Information Technologies (CSIT). Louise currently leads the development and implementation of innovation programmes at CSIT.
Kerry Hinks, Senior HR Business Partner, Bank of Ireland – As part of the Senior Management team, Kerry heads up HR for Bank of Ireland in Northern Ireland. Having previously worked in HR within Senior Management teams in the Security and Catering industries. Kerry is particularly interested in areas of Inclusion and Diversity, Engagement, and Employee Wellbeing and their vital impact on driving effective organisational cultures, leadership and commercial performance. Kerry and her team are passionate and committed to Bank of Ireland's strategic priorities to transform the bank and serve customers brilliantly ensuring it fulfils the Bank's purpose of enabling all colleagues, customers and communities to thrive.
The event will start at 5.30pm with light bites, drinks and a chance to network.
The event is supported by Bank of Ireland.
We hope you can join us.