HR & Immigration Hot Topics with Cleaver Fulton Rankin
Date: October 13, 2022
Location: Belfast
Venue: Catalyst Innovation Centre, Belfast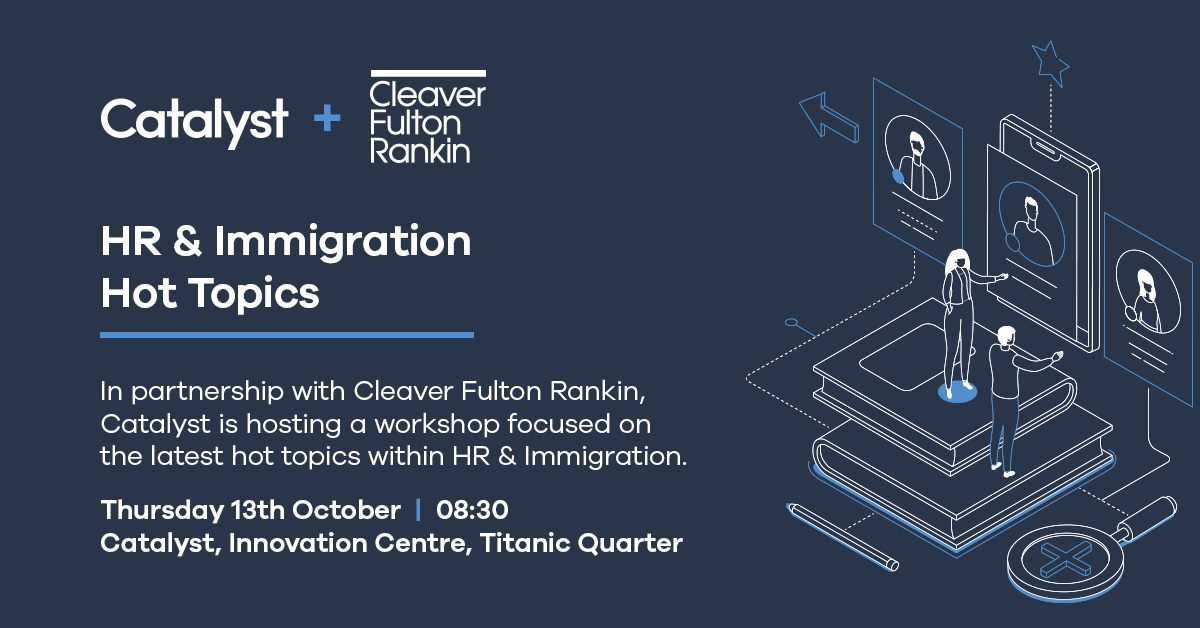 In partnership with Cleaver Fulton Rankin, Catalyst is hosting a workshop focused on the latest hot topics within HR & Immigration.
Michael Black & Nathan Campbell from Cleaver Fulton Rankin will provide an overview of the latest issues in HR & Immigration, and outline how businesses can best position themselves to compete in a competitive labour market. There will then be an opportunity to ask Michael & Nathan any specific questions facing your business.
HR & Immigration law and requirements change on a daily basis and the consequences of noncompliance are increasingly costly for employers. Join this workshop to hear from experts within the HR & Immigration fields, to learn about best practices and how to navigate recent changes.
What will I take away from this?
• An understanding of Business Immigration law and current HR trends.
• How to prepare your business for the challenges and opportunities arising from recruitment, onboarding and retention.
• An update on Immigration Law including changes to Skilled Worker and Sponsor Licences.
Who should attend?
This event is for those within businesses that manage employment and immigration policy, HR professionals, senior managers, and professionals in start-ups.
What is the event style?
The event will start with presentations from the Cleaver Fulton Rankin team followed by wider discussion and an open forum.
Date and Time: Thursday 13th October 2022 | Breakfast from 8.30am, Presentations at 9.00am. We expect the workshop to be finished by 10.30am
Venue: Catalyst Innovation Centre, Queen's Rd, Belfast, BT3 9D