Donation Drive for Dress for Success Northern Ireland
Start Date: March 16, 2023 - End Date: March 31, 2023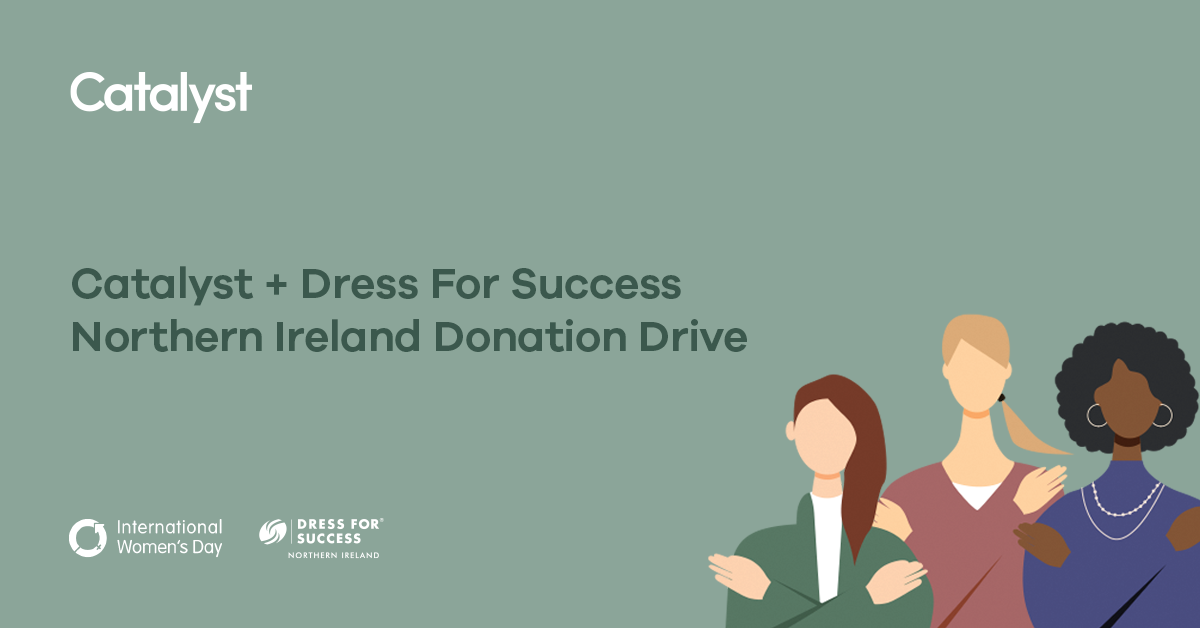 #EmbracingEquity: Catalyst Dress For Success Northern Ireland Donation Drive
Imagine if your fabulous suits and other professional apparel could furnish a woman with the confidence to enter or return to the workplace, make a great first impression, and land a job that could change her life.
With the International Women's Day 2023 theme of #EmbracingEquity, Catalyst's focus on inclusive innovation, and Dress for Success Northern Ireland's purpose, it seemed like a natural fit to join things together for good.
Over the next 4 weeks, Catalyst is running a donation drive for Dress to Success within its on-campus community. They are asking for member companies and individual donations of gently used, nearly new professional attire for women and/or a monetary contribution.
The support will enable Dress to Success to provide services that inspire women to take charge of their lives with a mission to empower them to achieve economic independence through a network of support, professional attire, and the development tools to help women thrive in work and in life.
How can you help?
CLOTHING DONATIONS
Interview and work appropriate – just think, what would you wear to a job interview?
That is exactly the type of clothing they are looking for to distribute to their clients.
Suits and blouses
Separates including blouses, slacks, skirts, dresses, blazers, and jackets
Shoes
Jewellery and scarves
Handbags (briefcases, portfolios or work appropriate handbag)
Please ensure that all items donated are freshly dry-cleaned/laundered and ironed, not more than 5 years old, and suitable for wearing to job interviews. Thanks!
Drop it into Catalyst Innovation Centre reception collection points in Belfast or Derry~Londonderry
FOR MONETARY DONATIONS click here, making sure to select the Northern Ireland option in the drop-down menu.
For any queries or further information please contact community@wearecatalyst.org