Co-Founders 101: Information Event
Date: November 30, 2022
Location: Online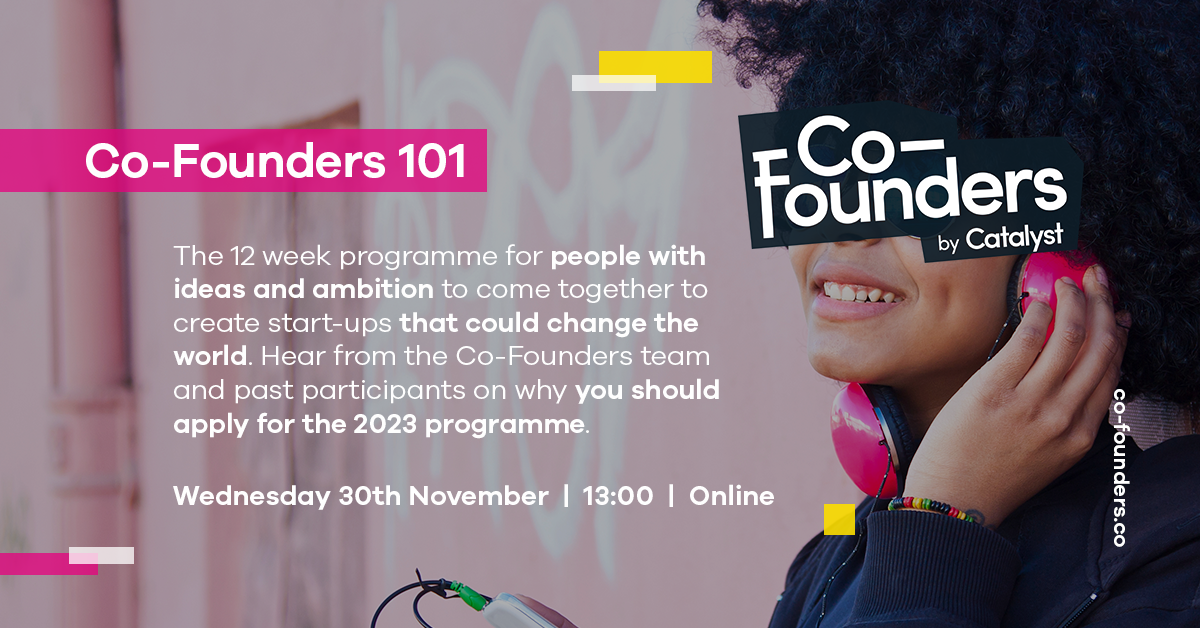 Hosted by the Co-Founders team, this session will provide you with all the essential information you need to know about the Co-Founders 2023 programme, covering everything from the application process and team formation to the key insights and learnings you'll take from the programme.
Guest speakers:
Patricia Kelpie, Co-Founder/CEO at Star 3 Group Ltd, an educational tool for learning disabled and Autistic children, highly effective, patent pending, launching soon.
Co-Founder's POC Grant Winner 2021
Techstart Concept Plus Grant Winner 2022
Jack Fullerton and Peter Gillan, Co-Founders at Atlas Smart technologies
Student INVENT 2021 winner
Winner of the £5k Engineers in Business Startup 'Champion of Champions Enterprise Award'
Atlas Smart Technologies' SmartBell is a smartphone-controlled dumbbell that offers 26 weight levels, ten more than the current market leader. Alongside this, goes the Stronger Mobile, a gamified workout tracking app. Stronger and the SmartBell combine to give a full personal training experience.
Additional speakers to be confirmed.
What is Co-Founders?
Co-Founders is a one-night-a-week programme for anyone who wants to be a co-founder in a start-up team and has the desire to explore the viability of a business idea.
This year, the programme is also focusing on 3 of the United Nations' Sustainable Development Goals of Fintech, Greentech, and Health and Life Sciences – if you are interested in working on an idea that relates to one of these Goals, please flag this on your application.
What you'll get out of it:
• Find other co-founders and form a start-up
• Upskill with weekly workshops and access to industry experts
• Grow your network
• Build your confidence and resilience + learn how to pitch
• Access the best funding opportunities
Who is Co-Founders for?
Co-Founders is open to everyone. All you need is an idea for a high-growth start-up or a skillset you can use to help one.
Information event:
When: Wednesday 9th November | 13.00
Where: Online